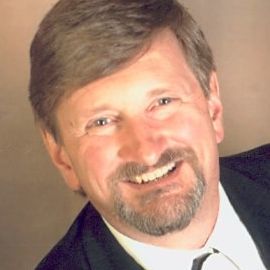 Dan Manternach
Agricultural economist, Researcher, Public Speaker, Owner of Perfect Fit Presentations, LLC
After a career spanning 39 years with four of the nation's leading consulting firms to farmers and agribusiness, Dan Manternach and wife, Peggy, have launched Perfect Fit Presentations, LLC, a new firm offering customized research, presentations and public speaking services. As former President of Professional Farmers of America (now owned by Farm Journal Media), Dan spoke regularly at in-house seminars and conferences and was also  in high demand for 3 rd party speaking engagements for ag banks, other agribusiness firms and grower association meetings. In 1997, he was named Agricultural Communicator of the Year by the National Agri-Marketing Association (NAMA).
After leaving Pro Farmer in 1999, Dan was hired by Sparks Companies, Inc. (now Informa Economics) as Vice-President forCustom Web Content. In 2003, Dan was hired by Doane  Agricultural Services of St. Louis as Vice-President of Ag Services. In 2015, he was hired as Senior Economist and St. Louis Regional Office Director for Roach Ag. Marketing Ltd. He continued to conduct meetings and seminars while at both firms as well as accept outside speaking engagements on specified topics.
"Doing customized research and presentations for 3 rd party clients has always been among the most interesting and professionally rewarding parts of my job at all four of my prior employers," says Dan. That's why he has launched a firm to specialize in that work. He will develop presentations designed to inform, inspire and entertain. He will deliver himself, develop for others to deliver, or even serve as a "hired gun" surrogate speaker for firms with their own presentations, but more requests to present than they can accommodate.
"The most important thing for potential clients to understand about having a perfect fit for their event is that I don't necessarily expect them to want what I have, but to have what they want!" says Manternach. Go to www.perfectfitpresentations.com for Manternach's  prior speaking clients, topics addressed,  client testimonials and more.
Speech Topics
---
Sample Topics
Top Ten Megatrends in U.S. Agriculture
Impact of Change in Commodity Prices at the Grocery Store
Crop Budget Insights into Coming Change in U.S. Crop Mix
Benchmarking To Assess & Improve Farm Management Skills
The Farmland Boom: A Bubble Burst or About to Resume?
Passing the Torch; Keys to Wise & Fair Farm Estate Planning
How Lenders Drill Deeper to Assess Farm Credit Risk
The Ag Impact Aftermath of Hurricanes Katrina and Rita