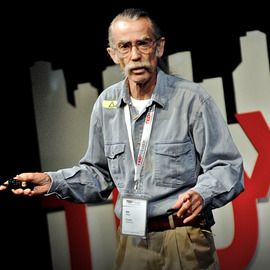 Dan Phillips is a designer and builder in Huntsville, Texas.
In 1998, he and his wife, Marsha, started The Phoenix Commotion, a construction company that builds affordable houses from reclaimed and recycled materials.
Their mission is to divert landfill waste while creating sustainable housing for single mothers, artists, and families with low incomes. The Phoenix Commotion keeps labor costs low while reclaiming human potential.
They use an apprentice program to teach sustainable building skills to individuals that volunteer or intern on the Phoenix Commotion Crew.
The houses are energy-efficient, cheap and satisfying to build -- and wildly, effervescently creative. To the Phillipses, any material used in enough multiples creates a beautiful pattern -- so Phoenix Commotion homes are covered and decorated with salvaged materials of many stripes.
Homes are built in concert with their eventual owner, who contributes sweat equity and their own artistic flair.
Speech Topics
---
The American Neurosis
This lecture covers the topic of building low-income housing, with a minimum wage crew, with free, salvage, and recycled materials. The causes of waste are explored - ranging from deep cultural and primal bents to the flagrant consumerism in our society. Modes for addressing the cultural shortcomings associated with "homeless"" families are explored, with a summary of what an average person could do to help.
Carbonated Prune Juice and the After-Market House
This lecture explores the topic of non-verbal metaphor, and how the advertising industry uses it as opium for consumerism. Deep-seated predilections for symbolic transformation of experience, coupled with innate tendencies to make non-verbal associations, trap the American consumer into craving appointments in housing that are ecologically harsh, and cater only to the middle- and upper-classes. The philosophical position is firmly rooted in the Cassirer/Langer tradition, with augmentation from numerous other writers.
Sheetrock and the Search for Primal Congruency
This lecture explores the phenomenology of residential architecture in America today, and how we have abandoned listening to deeper primal murmurs and allow standard building strategies and materials to dictate what our houses should be. Viewing the house as an object, rather than as a lived spatial and semantic dynamic, formalizes perceptions and dehumanizes the occupant. The philosophical perspective is existential, and accesses the writings of Sartre, Merleau-Ponty, and Bachelard.
Related Speakers View all
---
Jeff Speck

City Planner & Urban Designer; Advocates for Smart G...

Kate Orff

Sustainable Landscape Architect; Founder of SCAPE

Magnus Larsson

Sustainable Architect & TED Talker; Seeks to Turn Ha...

Linda Tirado

Author On Poverty and the Working Class

Doug Fine

Globe-Trotting Journalist; Humorist; NPR Adventure C...

Lori Cheek

Architect; Entrepreneur; Founder & CEO of Cheekd

Story Musgrave, M.D.

Retired NASA Astronaut; Physician & Professor at Art...

Kathryn Edin

Sociologist & Bloomberg Distinguished Professor at J...

Shelley Poticha

Managing Director of NRDC's Healthy People & Thrivin...

Carlo Ratti

Architect & Engineer; Director of MIT's SENSEable Ci...

Timothy Beatley

Professor of Sustainable Communities at the Universi...

George Elvin

Green Innovation Speaker & Author

Joshua Prince-Ramus

Architect & Principal of REX Design Firm

Tensie Whelan

Director of NYU's Center for Sustainable Business; F...

Tristram Stuart

Environmental Campaigner and Author; "Waste: Uncover...

Jason Clay

Senior Vice President, Food & Markets at WWF

Paola Antonelli

Senior Curator at the Museum of Modern Art in the De...

Debbie Millman

Writer, Educator, Artist, Brand Consultant & Host of...

Harvey Wasserman

Journalist, Author, Democracy Activist & Advocate fo...

Jeff Orlowski

Award-winning Filmmaker, Photographer, Entrepreneur,...
More like Dan