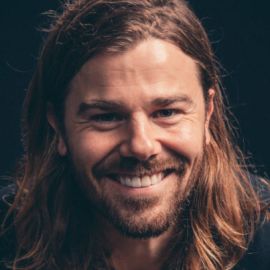 Raised in rural Idaho, Dan Price founded Gravity Payments from his university dorm room at just 19 years old. His mission--which remains the core of Gravity to this day--was to help the thousands of hard-working small business owners who are consistently overcharged and underserved by their credit card processors.
Dan built his company on the values of honesty, integrity, and transparency instilled in him during his rural upbringing. These simple values have set Dan and his company apart from others in the industry, making Gravity the most trusted name in processing. Today, nearly 20,000 independent businesses across all 50 states trust Gravity to save them millions in fees and hours in frustration by making it easy for them to accept payments.
Dan captured national attention in 2015 when he decided to raise the company's minimum salary to $70,000 a year. Since then, he has become an outspoken advocate of income equality and, through speeches, articles, and media appearances, has consistently encouraged other business owners to take responsibility for the well-being of their employees. Although he's been criticized for what some consider his radical policies on pay and equality (Rush Limbaugh famously derided him as "socialist"), Dan believes businesses have enormous power to promote social good, regardless of what industry they're in, by serving communities instead of shareholders and putting people over profits. His leadership has earned him many awards, most notably Entrepreneur Magazine's "Entrepreneur of 2014" and the 2010 SBA "National Young Entrepreneur of the Year," awarded to him by President Obama. In addition to these formal awards, Dan has been credited by other business owners who have decided to raise the minimum salaries at their own organizations.
Videos
---
Speech Topics
---
Small Business Entrepreneurship
As the founder of a company dedicated to helping independent business owners succeed, Dan can speak to the challenges of starting a business from scratch. In an era of increasing consolidation, globalization, competition, and change, what can business owners do disrupt their industries, stay true to their values, and stick out from the crowd? Dan will share the story of how he bootstrapped Gravity to grow it into a business that serves nearly 20,000 clients and employs 200 people. Drawing on his first-hand experience, he'll offer advice to business owners about how to distinguish themselves from the competition, hire the right people, and stay focused on what's most important.
Purpose-Driven Leadership
Businesses need to make money to survive, but more and more we are learning that companies that put purpose ahead of profit are more successful, innovative, and stable over the long term than those that focus on money alone. When Dan created Gravity, he made it his mission to help small business owners succeed, and that mission allowed him to stand out from the crowd in a competitive and sometimes dishonest industry without compromising his values. Dan calls on leaders to identify and commit to their own purpose and use it as a guidepost to make decisions that will help their companies not only survive but thrive.
Pay People More
Dan decided to implement a $70,000 minimum wage at his company because he believed that every worker is entitled to earn a living wage. Although he understands that many businesses, especially small, independent businesses, cannot afford the same policy, he urges leaders at all companies and in any industry to consider the cost of not paying their people enough to live. He explores creative ways to institute a better wage policy at your organization and shares data and research to prove how doing so can make your business stronger while simultaneously making our society more prosperous and fair.
Risk and Sacrifice
A lot of companies talk about their "mission" or "values," but so few actually put these words into action. While talking about purpose sounds like a good marketing strategy, you will erode trust among your employees, your customers, and your communities if they realize your promises are just spin. How do you communicate your mission to people in a world shaped by cynicism? How do you build trust to show that you mean what you say? The answer is sacrifice. True leaders need to be willing to risk things like money, reputation, fame, influence, or popularity for the sake of what's most important: their values and doing what's right. While taking risks is scary, Dan will show how they're necessary to creating change and inspiring others to follow.
Related Speakers View all
---
Iqram Magdon-Ismail

Co-Founder of Venmo

Daymond John

"Shark Tank" Investor; Founder & CEO of FUBU; Presid...

Sallie Krawcheck

Founder & CEO of Ellevest; Author of "Own It: The Po...

Uri Levine

Entrepreneur & Co-Founder of Waze

Terry Jones

Digital Disruptor, Author & Venture Capitalist

Peter Guber

Executive, Entrepreneur & #1 NYT Bestselling Author,...

Mitch Lowe

Former Co-founding Executive of Netflix; Former Pres...

Bill Rancic

"The Apprentice" Winner; Entrepreneur; Star of "Giul...

R "Ray" Wang

Founder, Chairman & Principal Analyst at Constellati...

Richard Florida

Leading Urbanist, Economist & Author of "The Rise of...

Jen Rubio

President & Chief Brand Officer of Away; Angel Inves...

John Rossman

Former Amazon Executive, Author & Expert on Digital ...

Guy Kawasaki

Chief Evangelist of Canva & Executive Fellow of the ...

Josh Linkner

Five-Time Tech Entrepreneur; Hyper-Growth CEO; NY Ti...

Ray Kurzweil

Chairman of Kurzweil Technologies, Inventor & Futuri...

Peter Diamandis

Founder & Executive Chairman of the XPRIZE Foundatio...

Barbara Corcoran

Real Estate Entrepreneur, Angel Investor, Author & C...

Geoffrey Moore

Organizational Theorist, Management Consultant & Author

Chieh Huang

CEO of Boxed Wholesale, NY Mobile Startups Meetup Or...

Andrew Fastow

Former CFO of Enron; Expert Keynote Speaker on Finan...
More like Dan