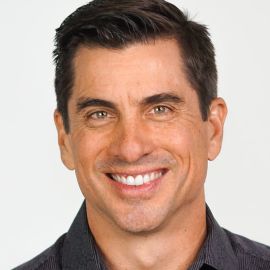 A teacher of peak performance, an author of impactful books and presentations, and a lifelong student of success, happiness, and achievement, Dan Thurmon is on a mission. To encourage attendees' uniqueness and contributions. To discover a sense of purpose and greatness. To have meaning at work, and in their lives.
At an early age, Dan learned the power of performance, on stage and in the various parts of our life. When he was eleven years old, he encountered a mentor who taught him some amazing physical skills, but also gave him a channel for his bountiful energy. He quickly excelled as a variety artist, comedy entertainer, and entrepreneur. Even in his high school years, the connection between business awareness, high level service, and self-improvement became evident and fascinating.
Graduating with honors, his entertainment business paid for his business degree at the University of Georgia. He applied the lessons in sales, management, and marketing to his entrepreneurial ventures in real time.
Since that critical pivot of life and work, he has worked with organizations around the world, in every spectrum of business: Fortune 500 companies. Startups. Associations across hundreds of industries. Troops on the front lines. Students, teachers, and entrepreneurs. Through his presentations and workshops, Dan helps these organizations to accelerate improvement, facilitate true breakthroughs and enable and encourage greatness.
Inducted into the Speakers Hall of Fame and a member of the illustrious Speakers Roundtable, Dan also served as President of the National Speakers Association, leading their CEO, staff and 3,500 world-wide members in a profound transformation.
Dan believes deeply that the right words, presented in the right way, at the right time, can change everything. His lifelong study of language and presentation skills have enabled a mastery of landing the critical idea that will shift an individual...or an organization. His opening presentations enable more productive and transformational meetings. Or as a closer, he provides a call to action that elevates the experience and the ROI of a meeting investment.
Organizational change happens when people make breakthroughs. Dan's presentations help organizations to become more of who they strive to be. When that happens, people become better. Companies become better. And the world becomes better.
Videos
---
Speech Topics
---
Off Balance On Purpose
A common challenge for organizations today is helping their employees bring more energy to work and not only embrace change but see it as an opportunity to lead. Dan Thurmon believes the reason that people struggle with change is they think they have to compartmentalize their life and keep everything in balance. What if we lived Off Balance on Purpose? What if instead of resisting uncertainty, we leaned into it? And what if rather than bringing our "work-self" to the office, we brought 100% of who we are?
In this keynote, Dan excites his audience with an interactive performance while giving them a multi-dimensional view of success. He doesn't stand Behind a podium and Talk about dealing with fear and change – he does handstands On the podium to Demonstrate what being uncomfortable and living off balance on purpose actually looks like. Your audience will talk about this presentation for years to come!
Off Balance on Purpose in Practice
Your people are your organization. When individuals perform well, the organization does too. For organizations to truly thrive, especially with a millennial workforce, they need to provide hands-on opportunities for personal development and create a culture of personal performance. "Change is hard. Motivation is only valuable if there is ACTION that creates change. That is why I created this workshop – to help you deliver real change for your teams." Dan Thurmon
This workshop is interactive (each participant gets their own workbook), introspective and personal. After the course, participants will be equipped to better integrate all aspects of their life so each area is strengthened and fully developed. Participants will also take stock of what they should stop/start/continue and create an action plan for themselves. Enhancing personal performance is the new corporate strategy. Adding this workshop to Dan's keynote on the same day will reinforce and solidify this year's goals for your organization.
Perform - Ability
It isn't really possible to "always be at your best because every moment counts" - some moments count much more than others. That's why it's more important to be your best When It Matters The Most.
In this keynote, peak performance speaker Dan Thurmon explores the reasons why some individuals fail under pressure, and why others seem to naturally rise to handle critical moments with ease and excellence. This isn't an innate talent – it's an ability that can be learned and mastered. Dan calls it "Perform-Ability."
The key to being able to "perform," or deliver excellence when it matters the most, is to prepare properly and understand the mindset and methods of top performers. Dan demonstrates these concepts in his signature high-impact style that includes juggling, acrobatics, and even a unicycle. Audiences leave this unforgettable session armed with new tools and the enthusiasm to tackle their biggest challenges.
Books
---
Related Speakers View all
---
Amanda Gore

CEO of The Joy Project; Author & Psychologist; Emoti...

Ryan Estis

Business Performance Expert & Agent of Change

John Foley

Former Lead Solo Pilot for the Blue Angels; Founder ...

Vince Poscente

Former Olympic Speed Skier, Best-Selling Author, Lea...

Adrian Gostick

Founder of The Culture Works & Bestselling Author of...

Doug Lipp

Former Head of Training at Walt Disney University & ...

Dan Clark

Master Motivator, CEO, New York Times Bestseller & M...

Chip Eichelberger

Peak Performance, Motivation & Sales Strategist

Mike Abrashoff

Former Commander of USS Benfold & Author of "It's Yo...

Rob Waldo Waldman

Decorated Fighter Pilot; Power of Relationships & Tr...

Mimi Donaldson

Speech Coach & Author of "Negotiating for Dummies" a...

Joel Zeff

National Speaker and Emcee, Workplace Expert, Author...

Mike Rayburn

Thought Leader, Artist & Entertainer

Neal Petersen

History-Making Extreme Adventurer, Award-Winning Aut...

Robyn Benincasa

World Champion Adventure Racer & Best-Selling Author

Liz Nead

Executive Business & Life Coach

Seth Mattison

Co-Founder & Chief Movement Officer of Luminate Labs...

Josh Linkner

Five-Time Tech Entrepreneur; Hyper-Growth CEO; NY Ti...

Pat Williams

Motivational Speaker & Sports Executive; Senior Vice...

Erik Wahl

Internationally Recognized Graffiti Artist, Entrepre...
More like Dan