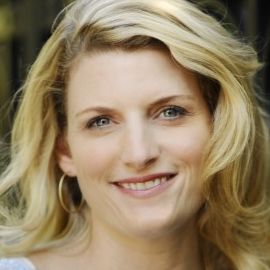 Calvo has spent the last several years in television, bouncing between multiple shows and wearing many hats (story editor, producer, writer). But it wasn't a career she sought out, but rather one that found her.
She grew up wanting to be a writer, earning a degree in English Literature from Swarthmore. But when Calvo graduated from college, she was confronted with a question many writers face: "'You've had this sort of idyllic, wholesome life—what are you going to write about?'"
So she detoured into journalism and spent years writing other people's stories at publications across the country—the New York Times (NYT), the Los Angeles Times, the Associated Press—until one day she heard from a NYT colleague who told her about a movie (Charlie Wilson's War) being adapted by celebrated screenwriter Aaron Sorkin (of The Social Network and The West Wing fame).
Sorkin was looking for a writer with a deep knowledge of D.C. politics, which Calvo had acquired during her years as a journalist. Calvo helped craft the screenplay (thought it was uncredited), describing it as a truly intellectually rewarding experience.
"It was very fun, but it was much more cerebral than I expected," she said. "I wasn't trying to switch careers. I just thought it would be a good project."
Calvo's experience working on Charlie Wilson's War opened other doors. She became friends with Sorkin—who attended Calvo's wedding—and when he began working on Studio 60 on the Sunset Strip, he invited her back to L.A. to help.
From there she became involved with NBC's Journeyman, then Franklin & Bash on TNT, and now, with Made in Jersey, she's taking the helm of her own show.
"That's always the goal for every writer," she said. "You want to create your own (story), not mimic someone else's."
The seed for Made in Jersey was first planted when Calvo was watching the Oscar-nominated film The Fighter. She recalled the scene in which main character Micky Ward's (played by Mark Wahlberg) rough-around-the-edges sisters are sitting around the living room arguing and thought, "What if one of those girls had the audacity to go to law school or medical school and busted out of that neighborhood?"
As she worked on the script, she drew inspiration from other areas, until she ended up with a main character—Deb Garretti Keenan—that's "a blend of those girls, Melanie Griffith from Working Girl, and a little bit of me," said Calvo, who visits her folks, who still live in Moorestown, as often as she can.
Related Speakers View all
---
David Hayter

Canadian-American voice and screen actor and screenw...

Kelly Oxford

Kelly Oxford is a Canadian author, screenwriter, soc...

Kimberly McCreight

Kimberly McCreight is the author of the New York Tim...

Terence Winter

Emmy Award-Winning Writer, "Boardwalk Empire," "The ...

Brian Koppelman

Co-Creator & Executive Producer of Showtime's "Billi...

Tim Hill

Timothy "Tim" Hill is an American film director and ...

Cassandra Clare

Author of the #1 New York Times, USA TODAY, Wall Str...

Steven Fischer

Emmy Nominated Independent Filmmaker; Expert on Crea...

Patrick Marber

English comedian, playwright, director, puppeteer, a...

Michael Elliot

African-American Screenwriter of Award-winning Urban...

John Ridley

Oscar Winning Writer, '12 Years a Slave,' 'American ...

Colin Meloy

Colin Patrick Henry Meloy is the lead singer and son...

Sarah Evans

Digital correspondent. Producer/writer/editor. Strat...

Cameron Esposito

Stand-Up Comic, Actor & Writer Known for "Take Me As...

Michael McDonald

Michael James McDonald is an American stand-up comed...

Heidi Ferrer

Screenwriter; Founder & CEO of GirltoMom.com; Recove...

Parul Sehgal

Parul Sehgal is an editor for The New York Times Boo...

Misha Beiser

Host/Producer at Chance TV

Juliette Binoche

Juliette Binoche is an award-winning French actress,...

Abigail Tarttelin

Author of "Golden Boy" and "Flick"
More like Dana