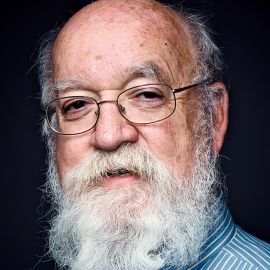 Daniel C. Dennett, the author of Breaking the Spell, Freedom Evolves, and Darwin's Dangerous Idea and is University Professor and Austin B. Fletcher Professor of Philosophy, and Co-Director of the Center for Cognitive Studies at Tufts University. He lives with his wife in North Andover, Massachusetts, and has a daughter, a son, and a grandson. He was born in Boston in 1942, the son of a historian by the same name, and received his B.A. in philosophy from Harvard in 1963. He then went to Oxford to work with Gilbert Ryle, under whose supervision he completed the D.Phil. in philosophy in 1965. He taught at U.C. Irvine from 1965 to 1971, when he moved to Tufts, where he has taught ever since, aside from periods visiting at Harvard, Pittsburgh, Oxford, and the École Normale Supérieure in Paris.
His first book, Content and Consciousness, appeared in 1969, followed by Brainstorms (1978), Elbow Room (1984), The Intentional Stance (1987), Consciousness Explained (1991), Darwin's Dangerous Idea (1995), Kinds of Minds (1996), and Brainchildren: A Collection of Essays 1984-1996. Sweet Dreams: Philosophical Obstacles to a Science of Consciousness, was published in 2005. He co-edited The Mind's I with Douglas Hofstadter in 1981 and he is the author of over three hundred scholarly articles on various aspects on the mind, published in journals ranging from Artificial Intelligence and Behavioral and Brain Sciences to Poetics Today and the Journal of Aesthetics and Art Criticism.
Dennett gave the John Locke Lectures at Oxford in 1983, the Gavin David Young Lectures at Adelaide, Australia, in 1985, and the Tanner Lecture at Michigan in 1986, among many others. He has received two Guggenheim Fellowships, a Fulbright Fellowship, and a Fellowship at the Center for Advanced Studies in Behavioral Science. He was elected to the American Academy of Arts and Sciences in 1987.
He was the Co-founder (in 1985) and Co-director of the Curricular Software Studio at Tufts, and has helped to design museum exhibits on computers for the Smithsonian Institution, the Museum of Science in Boston, and the Computer Museum in Boston
Related Speakers View all
---
Dan Ariely

Behavioral Economist; Professor at Duke University; ...

Ray Kurzweil

Chairman of Kurzweil Technologies; Inventor; Futurist

Professor Richard Dawkins

English Ethologist, Evolutionary Biologist, Charles ...

Sir Richard Branson

Businessman, Founder of Virgin Group

Graham Hill

Founder of Life Edited & TreeHugger.com

Mary Roach

Author, "Packing For Mars", "GULP: Adventures on the...

Virginia Postrel

Author & Columnist; Writes on The Intersection of Co...

Jonathan Haidt

Professor of Ethical Leadership at New York Universi...

Sam Harris

Neuroscientist, Philosopher & Bestselling Author

Dr. Michio Kaku

World-Renowned Futurist & Theoretical Physicist

Peter Diamandis

Founder & Executive Chairman of the XPRIZE Foundatio...

Josh Lieb

Executive Producer, "The Daily Show"

David Life

Yoga Master; Co-Founder, Jivamukti Yoga

Stuart Firestein

Scientist; Advocate for the Public Understanding of ...

Steven Mazie

Associate Professor of Political Studies, Bard High ...

An Phung

Multimedia Journalist

Jeffrey Israel

Jeffrey Israel has taught religion and political phi...

Spencer Wells

Geneticist, Anthropologist, Author, Entrepreneur, Ad...

Tiffany Shlain

Emmy-Nominated Filmmaker & Founder of the Webby Awards

Pardis Sabeti

Infectious Disease Expert & Professor, Harvard Unive...
More like Daniel