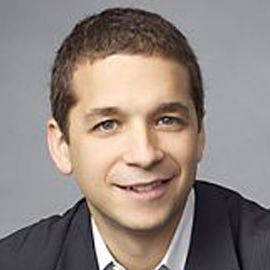 Daniel Roth
Executive Editor at LinkedIn; Former WIRED Magazine Senior Writer
Daniel Roth is the executive editor of LinkedIn, based in New York. In the role, he oversees the news on LinkedIn Today, LinkedIn's groundbreaking social professional news site; develops products related to editing, curating, and tracking headlines; manages a team of editors and community managers; and helps set strategy. Previously, Roth was the managing editor of Fortune.com and an award-winning writer at Wired, Portfolio, Fortune and Forbes.
In 2005, Roth's story on following the creators of Skype was named Best Story on Entrepreneurship at the 2005 Business Journalist of the Year Awards. His piece on the founder of BitTorrent was included in the 2006 edition of the Best American Science and Nature Writing.
He has a B.S. in journalism from Northwestern University.
Roth is married and lives in New York with his wife, Lisa Fingeret Roth, and sons Jack and Leo. He is the vice president of the Kentuckians of New York.