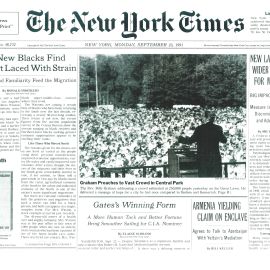 Daniel Southern
Daniel Southern's story of overcoming personal adversity to become a Crusade Director for the Billy Graham Evangelistic Association (BGEA) for 20 years,
Daniel Southern's story of overcoming personal adversity to become a Crusade Director for the Billy Graham Evangelistic Association (BGEA) for almost 20 years, is nothing short of remarkable. Possessing a true global resume, he has lived in such diverse places as Moscow, New York, Seoul and London. In 2000, he was invited to be one of the lead facilitators for the historic international conference held by the BGEA in Amsterdam and attended by representatives from 150 nations. One of his most prestigious accomplishments was overseeing the largest public meeting ever held by Billy Graham in North America in New York City's Central Park. For twelve years following his career with Billy Graham, Dan was President of the American Tract Society. He has addressed leaders at the Pentagon and three of the Service Academies ( West Point, Coast Guard and Air Force) on more than one occasion In April 2007 he was awarded the Russian International Peacemaker Star in Moscow. He has had the privilege of knowing the most famous of celebrities, royalty, athletes, politicians, CEOS, visionaries, musicians and philanthropists. He has published many articles on leadership training, organizing, promotion, negotiations, public speaking, mobilizing volunteers, team-building, fund-raising, writing, board leadership and motivation. In The Message of Leadership he creates vision and mixes it with numerous insights to help leaders restructure their organizations; work productively with their Board of Directors; produce events; develop fundraising mechanisms; work successfully with the media; develop training materials and move them to a higher level of effectiveness. In addition to hosting his own radio talk show, he has been a guest on 100 shows globally and recorded more then 1000 radio shows of his own. In 2006 he partnered with actor Stephen Baldwinto launch a dynamic youth outreach using extreme sports to impact street kids. Today he serves as President of Stephen Baldwin's Breakthrough Ministries because of his shared belief in the need to reach today's youth culture with a positive life message.
MOST REQUESTED TOPICS:
Let's Get Real Have you ever had an experience where what you saw was NOT what you got? This was Daniel's experience when he came face-to-face with the powerhouse wrestler Hulk Hogan. He met him in Denver. The Hulkster was not all what Daniel expected. Yes, he was tanned, muscular and huge, but he was also quiet and humble in his demeanor - the polar opposite of the TV persona he had so skillfully crafted over the years. He has had the privilege of knowing many famous people like Steve McQueen, the Queen of England, Coretta Scott King, Tom Landry, Jimmy Carter and Bob Marley. Underneath all the glamour, humans are all the same. Everyone is searching for meaning and purpose in life and shares the same basic human needs. Showmanship is one thing, but don't be fooled by your own act.
The Way Up Is Down Have you ever been embarrassed or ashamed only to discover later that your experience was supremely valuable? Maybe your failure affected your life in such a way that nothing else could have. Daniel didn't seem to learn very much when everything is going great. What about you? He has found that down is the way up. Anyone can handle success. How you handle failure is a sign of greatness. Most leaders will suffer setbacks and discouragement; it goes with the territory if you are trying to accomplish something great. Those who are playing it safe will never find out what kind of stuff they are really made of.
Untying the "Nots" of Leadership There are all kinds of leaders. It is almost easier to define leadership by what it is not, than by what it is. Leaders are not passive. They do not give up easily and they certainly are not intimidated by circumstances. Daniel has come to believe that leadership is primarily a state of mind that flows out of life. You may not picture yourself as a leader. Daniel never really did. He only knew that when there was something that needed to be done, He wasn't content to wait for someone else to step up to the plate. Let's start by coming up with a new model for success that does not necessarily equate activity with productivity. While it is true that you will never accomplish anything without doing something, it is also true that too much busyness can actually blur your ability to think strategically and use your resources to their greatest advantage.
Videos
---
Speech Topics
---
Standing on the Shoulders of Giants
Inspirational - on how we have benefited from those who have gone before us.
Succeed More by Winning Less
Challenging - how to succeed by putting others ahead of yourself
News
---
New York Times
Daniel Southern led Billy Graham's largest public meeting in North America help on the Great Lawn of Central Park.
Related Speakers View all
---
Jordan Goldman

Named "One of the top young entrepreneurs in America...

Laurence Winmill

Laurence Winmill is probably one of the most dynamic...

Mark Goulston

Author of International Best-Seller, "Just Listen" D...

Jon Bergmann

Pioneer of the Flipped Class Movement & Bestselling ...

Afra Raymond

Afra Raymond is President of the Joint Consultative ...

Jeremy Cage

CEO of the Lighting Science Group; Former Senior Vic...

Joseph M. Foster

My dream is to help ordinary people live extraordina...

Michael Iyiola Odeyemi

Public Speaking Professional. Expert on Young People...

Jeff Salz

Explorer, Anthropologist, TV Personality & Author

Gary Bradt, PhD

Change, Leadership & Life Balance Expert; Author of ...

Harry K. Jones

dynamic and much sought-after professional speaker.

Hamish Taylor

Former CEO of Eurostar & Sainsbury's Bank; Leading E...

Rene Mijnders

The most successful Dutch rowing coach ever.

Madieu Williams

Born in Sierra Leone, West Africa, Madieu Williams m...

Dr. Rick Goodman

Is a Keynote Speaker, Author and Team Building Exper...

Frank Versteegh

Dutch Aerobatics Pilot and Airshow Organiser

Theo de Rooij

The world and sports are his playing fields.

JP Pawliw-Fry

Co-Founder of the Institute for Health and Human Pot...

Sheldon Yellen

CEO, BELFOR

Dr. Ken Druck

Speaker, thought leader, executive coach/consultant ...
More like Daniel