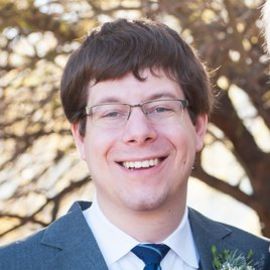 Daniel Wendler PsyD is an author, founder of ImproveYourSocialSkills.com, and autistic self-advocate. Dr. Wendler founded ImproveYourSocialSkills.com, an online resource for social skills improvement with millions of readers, and is the author of "Improve Your Social Skills," "Level Up Your Social Life" and "Clicking With Clients."
After discovering his own diagnosis of Asperger's Syndrome, Dr. Wendler intensely researched the art of social skills to teach himself how to succeed socially, and developed a set of actionable techniques that he combines with his training in clinical psychology to help others flourish. Today, Dr. Wendler works at one of the largest therapy practices in Austin, Texas, and speaks nationally on topics related to autism, social skills, friendship, and loneliness.
Videos
---
Speech Topics
---
Healthy Intimacy & Dating Success
Video Games & Social Skills
Online Marketing for Mental Health Providers
Related Speakers View all
---
Kyler Shumway

Doctor of Clinical Psychology, Autism Advocate, and ...

Alix Generous

Mental Health Advocate & Motivational Speaker With A...

Wendy Chung

Clinical and Molecular Geneticist & Physician

David Finch

New York Times Bestselling Author With Asperger Synd...

Michael Pantalon, Ph.D.

Clinical Psychologist and Expert on Influence

Holly Robinson Peete

TV Personality & Autism Advocate

Dan Marino

Pro Football Hall of Famer, Business Owner & Founder...

Temple Grandin

World-Famous Animal Scientist, Autism Self-Advocate ...

Doug Flutie

Former NFL Quarterback & College Football Analyst; A...

Russell Lehmann

Author, Poet & Mental Health Advocate on the Autism ...

Raun K. Kaufman

Author of "Autism Breakthrough" & Former CEO of the ...

Jonathan Chase

Autism Advocate, Speaker & Musician

Thomas D'Eri

Co-Founder of Rising Tide Car Wash & Autism Advocate

Oren Miron

Research Associate, Harvard Medical School

Stuart Duncan

CEO & Founder of Autcraft

Barry M. Prizant

Authority on Autism & Author of "Uniquely Human"

Lisa Genova

Speaker on Alzheimer's Disease, Traumatic Brain Inju...

Ami Klin

Director of the Marcus Autism Center & Division Chie...

Roy Richard Grinker

Cultural Anthropologist & Author, "Unstrange Minds: ...

Mark Anthony McCray

Entrepreneur, Speaker, Writer, Credit Repair Guru an...
More like Daniel