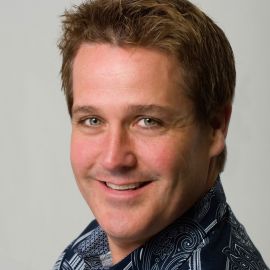 Danny Cahill was overweight from age seven to fifteen. As a sophomore in high school he didn't have a girlfriend so he worked hard and lost 75 pounds over the summer. Danny became popular, playing football and in a Rock & Roll band after righting his life! However, after high school and a few years in college, his weight steadily increased throughout the years to almost 450 pounds.
Danny coaches his son's football team and would love to be able to do more with his young, energetic children. Danny is concerned his daughter is following in his footsteps and is beginning to struggle with her weight. His son would love to go camping and hunting with him, but his weight makes those things virtually impossible.
Danny wanted to win "The Biggest Loser" to save him from this unhealthy lifestyle. He does not want to leave his wife and children early in life. Originally from Midwest City, Oklahoma, Danny and his family live in Broken Arrow, Oklahoma. Danny is an accomplished musician, having played in Donny Osmond's band.
Since coming to "The Biggest Loser" ranch Danny has lost over 230 pounds, but more importantly, he's learned the importance of living with a healthy mental attitude and physical lifestyle. It's no wonder he's NBC's season eight's winner of The Biggest Loser!
Since winning "The Biggest Loser", Danny has appeared on Good Morning America, The Jay Leno Show, and many other television, radio and print media.
Danny Cahill's big dream was to get smaller. In this presentation Danny talks about not giving-up on your dreams, even if you have not previously succeeded. Danny had lost weight several times before, only to yo-yo back to a whopping and life-threatening 430 pounds! Danny knew that he was going to have to do something huge if he was going to survive long enough to raise his children and enjoy his family.
Books
---
Related Speakers View all
---
Bob Harper

Personal Trainer & Former Host of "The Biggest Loser...

Jessie Pavelka

Fitness Expert; Former Television Host on NBC's "The...

Robert H. Lustig

Endocrinologist, Professor of Pediatric Endocrinolog...

Chris Powell

Trainer and Transformation Specialist on ABC's "Extr...

Keri Glassman

Nutritionist, Author, Founder and CEO of Nutritious ...

Dr. Holly G. Atkinson

Award-Winning Medical Journalist

Julie Hadden

Author, speaker & star of The Biggest Loser Season 4

Richard Simmons

Fitness Instructor, Actor, Video Producer Known for ...

Jillian Michaels

Leading Fitness Expert, Certified Nutritionist, Reno...

Nastia Liukin

Olympic Gold Medal Gymnast

Dr. Carol Addy

Endocrinologist, Expert on Diabetes and Obesity & Ch...

Tia-Clair Toomey

Commonwealth Games Gold Medallist & Winner of Fittes...

Drew Canole

Founder and CEO of Fitlife.tv

Jay Cardiello

Personal Trainer, Author & Globally-Recognized Fitne...

David Zinczenko

Former Vice President of Men's Health, Women's Healt...

Larysa Didio

Celebrity consultant in nutrition and healthful living.

Dr. Mehmet Oz

Cardiothoracic Surgeon; Host of "The Dr. Oz Show;" C...

Olivia Ward

Winner of "Biggest Loser" Season 11

Brian Wansink

Director, Cornell Food and Brand Lab Author, Mindles...

Ethan Zohn

Winner of "Survivor" Africa, 2x Cancer Survivor, Ste...
More like Danny