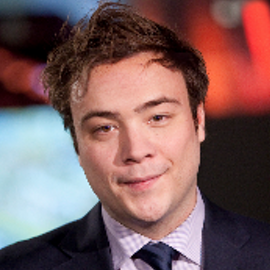 Danny Mekic' has been chosen the Netherlands: 'most successful young entrepreneur of the year'.
Danny Mekić (Amsterdam, January 12, 1987) is a Dutch entrepreneur and expert in the fields of technology and internet. In 2008 he finished his education as a mediator, and writes opinion articles for the major Dutch newspapers.
In 2002, at the age of 15, Mekić founded his first company – an internet company. Two years later he quit high school to fully focus on his businesses.
Nevertheless he was admitted to the University of Amsterdam in 2007, where he started with the honoursbachelor Jurisprudence with elective courses in Psychology and Economy. In 2008 he became chairman of the Student Faculty Board. Mekić is one of the most asked speakers on technology, innovation and entrepreneurship in The Netherlands.
Career
June 2009, Mekic' was awarded as "most successful young entrepreneur of The Netherlands" by Sprout, an entrepreneurial magazine, and was rewarded as well by Quote and Elsevier, two leading magazines in The Netherlands.
In September 2010, Mekić has been appointed in an advisory board of the Dutch Ministry of Education, Culture and Science and the Ministry of Economic Affairs, that has to stimulate entrepreneurship in the educational system.
In 2011 he founded NewTeam, a Dutch, international operating consultancy agency that focusses on strategic boardroom consultancy to large organizations on technology, media and communications, and is specialized in disruptive innovations and new business models. NewTeam works for 40 of the 100 biggest organizations in The Netherlands and several government agencies, but also has customers in seven other countries in Europe, America and Australia.
Danny teaches on several universities and has been invited by most Dutch Universities and Universities of Applied Sciences as a guest lecturer.
He loves playing the piano.
Related Speakers View all
---
Louis-Philippe Loncke

European Adventurer 2016, Explorer, Motivational Spe...

R "Ray" Wang

Founder, Chairman & Principal Analyst at Constellati...

Igor Beuker

World Authority on Marketing and Media

Stanley J. Reynolds

Your audience will enjoy a new innovative approach f...

Somto Okeke Charles

Somto Okeke Charles is a vibrant & innovative young ...

Scott Shellstrom

Creativity Innovator, Award Winning Creative Directo...

Gbadebo Odularu

PhD Economist keen on deploying data science to solv...

Harry G. Broadman

Dispelling Myths About Emerging Markets Business Gro...

Daniel Burrus

Technology Futurist, Business Strategist & Hall of F...

Kanya Balakrishna

Co-Founder & CEO of The Future Project

Charlie Alejandro

Motivational Speaker, Writer, Actress & Radio Talk S...

Clay Laugier

Social Entrepreneur & Start-Up Mentor

Alex Banayan

Author & World's Youngest Venture Capitalist

Jesse Miller

Topics focus on Social Media Awareness & Education, ...

Micah Solomon

Customer Service & Experience Consultant

Adora Svitak

Author, Speaker, Youth Advocate & Child Welfare Prof...

Jeff Jarvis

Journalist & Media Expert; Founder of BuzzMachine.com

Ken Jennings

Jeopardy! "Greatest Of All Time" Winner; Longest Jeo...

Jon Bergmann

Pioneer of the Flipped Class Movement & Bestselling ...

Dyana Valentine

Oracle & Entrepreneur; Founder of WHY and creator of...
More like Danny