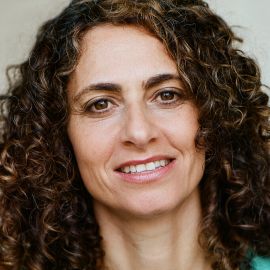 Daphne Miller, M.D. is the founder of one of the first integrative medical practices in San Francisco, which focuses on the whole person and incorporates a blend of conventional and alternative healing approaches. She has authored numerous articles and chapters both for the medical profession and for the general public. She was a regular contributor to WebMD.com and has been recognized for excellence as a clinician by numerous independent ranking organizations, including BestDoctors.com and the Lila Guide. Her book, "The Jungle Effect: A Doctor Discovers the Healthiest Diets from Around the World – Why They Work and How to Bring Them Home" (Collins), is a nutrition adventure that reveals the healthiest diets around the globe. As founder of the Health from the Soil Up Initiative, she studies the connections among health, culture, and agriculture, with the goal of building a healthier and more resilient food system from the soil up.
Miller has been featured in a wide variety of magazines and websites including San Francisco Magazine, Alternative Medicine, Eating Well, 7X7, Salon.com, First for Women, Drweil.com, Gourmet.com, Self-Healing Magazine, and Women's Health and Fitness. She has also made television and radio appearances on several health shows including Oprah and Friends radio with Dr. Mehmet Oz. She is a nationally recognized speaker on nutrition and health and regularly gives talks and seminars both to medical and non-medical audiences. She was one of the keynote speakers at the 2007 San Francisco Integrative Medicine Forum, the 2008 University of Arizona International Nutrition Conference, and she was a guest lecturer at Japan's prestigious training program at Chubu hospital.
Miller believes that her most valuable work as a physician occurs when she helps patients to discover and maintain an optimal diet and lifestyle. She is an Associate Professor at the University of California San Francisco where she teaches nutrition and integrative medicine. In addition to her clinical work, Miller has dedicated herself to studying, teaching and writing about the healing effects of traditional diets from around the world. Her love for indigenous food can be traced back to a childhood spent living in remote parts of the world with Peace Corps parents. Later, as a community health worker and then as a physician she took assignments in Asia, Latin America, and Sub-Saharan Africa. In each place she collected recipes and developed her interest in the health effects of local foods.
Miller is a member of the American Academy of Family Physicians as well as several other local and national professional organizations and she maintains active privileges at her hospital.
A graduate of Brown University and Harvard Medical School, Miller did her medical residency at the University of California, San Francisco where she also completed a two-year NIH-funded research fellowship. Her formal nutrition training includes a two-year Bravewell Scholarship at Andrew Weil's Program in Integrative Medicine which is based at the University of Arizona.
Related Speakers View all
---
Felice Dunas

Sex and Alternative Health Expert

Anthony William

New York Times Bestselling Author of "Medical Medium"

Michael Backes

Co-Inventor of the First US Patent for a Cannabis Pl...

Dr. Holly G. Atkinson

Award-Winning Medical Journalist

Marianne Williamson

Renowned Authority on Spirituality & Metaphysics; Au...

Sophie Uliano

New York Times Best-Selling Author, Nutritionist, Gr...

Dr. Darlene Mininni

Author, Behavioral Health Specialist and Consultant ...

Dr. Will Cole

Leading Functional-Medicine Expert

Nadine Hachach-Haram

Co-Founder Proximie, NHS Clinical Entrepreneur Fello...

Dr. Josh Axe

Wellness Physician, Radio Show Host, Physician for O...

Dr. Joanne Loewy

Director, Louis Armstrong Center for Music and Medic...

Tara Brach

Author & Mindfulness Teacher

Charlo Greene

Former Reporter, Cannabis Activist, Media and Cultur...

Emma Walmsley

CEO & Board Member of GlaxoSmithKline

Erica Weirich

Founder, Global Health Research Foundation

Melissa Stevens

Executive Director, Center for Strategic Philanthrop...

Vasavi Kumar

"Freedom Strategist," Indian Woman Living with Bipol...

Andy Puddicombe

Co-Founder of Headspace

Genifer Murray

Founder & CEO of CannLabs

Alisha Boe

Actress, Known for "13 Reasons Why"
More like Daphne