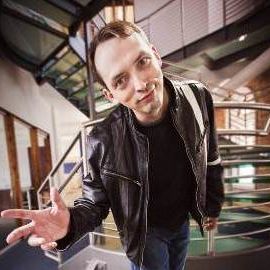 Daren now performs in corporate, college, club and christian venues nationwide. As a stand-up comedian, it is typically difficult to entertain audiences across all generational demographics. Daren is one of the few who has excelled at this. His clean comedy breaks down all generational walls as he has a knack for connecting with teens. In today's world, the youth have been the most difficult to capture. Daren Streblow's hilarious, clean comedy allows parents to sit with their teens and laugh at each other without feeling uncomfortable.
Daren has been featured at Bill Gaither's "Praise Gathering"; "Estes Park"; "Spirit - West Coast"; numerous "Youth for Christ" events as well as countless "Fellowship of Christian Athletes" dates. He has been a featured performer on the Ken Davis, David Phelps and Jeff Allen Tours. Daren also performs regularly at corporate events, Comedy Clubs and colleges. Daren is a routine comedian at the Youth Specialties Convention and the National Pastor's Convention.
Daren Streblow is perfect for outreach events, because you don't have to be a Christian to enjoy his clean comedy. In his routines, by request, he often mentions that he is a Christian, and shares hilarious observations about living the Christian life in today's world.
Your audience will love his clean, observational comedy and if asked will offer the Light of the Gospel. Daren Streblow will gain your audience's trust through laughter, and plant the seed of the Gospel through their trust.
_
"Daren Streblow's program was the perfect mix between hilarious and impactful!"
Daniel Winn, Youth Pastor, Cornerstone Family Non-Denominational Church_
"_His show was wonderful--everyone was laughing to the point of crying. I have received the most positive comments ever from this year's Christmas party and that was due to Daren's ability to relate his humor to the group." -Paul Carteaux, Cook Nuclear Plant
"I recently ministered in New Zealand and took Daren Streblow with me. Daren is a talented stand-up comedian. He is not only an excellent draw-card for youth meetings, but he's faithful to preach the whole counsel of God."
Ray Comfort - National Speaker and Author of Hell's Best Kept Secret
"Excellent job performing and was very personable and easy to work with." - Melissa Pasciak, Prince Corporation
"Daren had people holding their stomachs with tears of laughter rolling down their cheeks. Daren knows his audience and knows how to tickle their funny bone. But Daren is not just a comedian. He is a communicator who uses humor to impact people's lives. His invitation to Christ was effectively presented."
Wayne Pederson - President, National Religious Broadcasters
"We couldn't be happier with Darren's performance." - Liz Carlson, Wells Fargo
"We all enjoyed Daren's stand-up comedy. More than one person remarked how funny he was, despite the crowd being so diverse in age."
Emily Heil - Youth Minister, Woodland Hills Church, St. Paul, Minnesota
"Daren Streblow makes me laugh until I can't breathe. Very few people are capable of doing that. That's why I'm still alive." Ken Davis
"Daren has a God-given gift to walk into a group of strangers and captivate them with his humor."
Pastor Matt Rudeen - Youth Pastor, Grace Baptist Church, Little Falls, Minnesota
"Daren is the best comedian I have ever heard."
Daren's Mom
_
Related Speakers View all
---
Shawn Reynolds

Clean Christian Comedian for Corporate & Church Events

Mike Goodwin

The "Bowtie" Comedian & Leadership Speaker

Kenn Kington

XM Radio Comic, Author & Motivational Speaker

Dustin Nickerson

Standup Comedian & Host of "Don't Make Me Come Back ...

Jonnie W

Stand-up Musical Comedian

Tim Hawkins

Christian Youth Pastor and Comedian

John Gray

Christian Comedian, Pastor & Author; Star of "The Bo...

David Kinnaman

Best-Selling Christian Author; President of Barna Group

George Barna

Best-Selling Author & Founder of The Barna Research ...

Chonda Pierce

Christian Comedian

Mark Lowry

Singer-Songwriter, Author & Christian Comedian

Brad Stine

Clean & Conservative Comedian Dubbed "God's Comic" B...

Samantha Ponder

Host of ESPN's "Sunday NFL Countdown"

Sadie Robertson

Motivational Speaker, Bestselling Author, Owner of C...

Bethany Hamilton

Professional Surfer & Shark Attack Survivor; Inspira...

Sean Lowe

Businessman, Author & Former Reality TV Personality ...

Lt Col Dan Rooney, USAF

Fighter Pilot, PGA Professional, Patriotic Philanthr...

Michael Jr.

Comedian seen on The Tonight Show, Comedy Central, T...

Pam Tebow

Mother of Tim Tebow, Faith-Based & Pro-Life Speaker

Lisa Harper

Storyteller & Theological Scholar; Bestselling Author
More like Daren