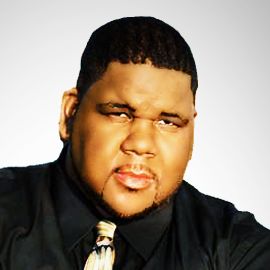 A student ignored, now a voice heard around the world -- In a few short years, author, actor, songwriter, motivational speaker and freedom writer Darrius Garrett transitioned from the 'hood to humanitarian, reaching heights he once could only imagine. As an inner-city youth of Long Beach, Calif., Garrett could easily have become a product of his environment but rose instead to become a pillar of his community. He became a New York Times best selling author at a young age when he co-wrote "The Freedom Writers Diary," which inspired the 2007 movie "The Freedom Writers" starring Hilary Swank. In the film, Garrett was portrayed as the heart-wrenching character Marcus. He also wrote the song "Change" for the movie's soundtrack.
As a freedom writer, Garrett was co-recipient of the Spirit of Anne Frank Award, the Crystal Apple Award and other honors. He has shared his story with the likes of Miep Gies, the Dutch woman who hid Anne Frank; former U.S. Secretary of Education Richard Riley; and singer/actor/activist Harry Belafonte. The story has also been featured on segments on "Primetime Live with Connie Chung," The Oprah Winfrey Show" and NPR as well as in articles in the L.A. Times, the Long Beach Press-Telegram and the Associated Press. Garrett's recent works include a book of poetry titled "Poetic Thoughts" and the soon-to-be published "Diary of a Freedom Writer: The Experience." He frequently speaks to at-risk youth in schools and detention centers, as well as educators, social workers, business-people and politicians. Motivating his audiences with his story of hope, tolerance and action, Garrett encourages them to become the fire that ignites change.
Speech Topics
---
Death (Dealing With Loss)
Writing a Bestselling book
How to channel Great Ideas
Related Speakers View all
---
Coach Ken Carter

Coach, Author, Educator & Inspiration for the Film "...

Erin Gruwell

Inspirational Educator & Author of "The Freedom Writ...

Neal Petersen

History-Making Extreme Adventurer, Award-Winning Aut...

Sheldon Yellen

CEO, BELFOR

Dr. Ken Druck

Dr. Ken Druck is a Hay House author and nationally r...

Val McLeod

Inspirational Influencer and Empowerment Speaker and...

Benjamin Zander

Conductor of the Boston Philharmonic Orchestra; Cele...

Dave Dravecky

Former Professional Baseball Player; Cancer Survivor...

Les Brown

Motivator, TV Personality & Best-Selling Author

Kanya Balakrishna

Co-Founder & President of The Future Project

Roberto Alas

Reaching and identifying the potential in every sing...

Charlie Alejandro

Motivational Speaker, Writer, Actress & Radio Talk S...

Grant D. Fairley

Inspirational Speaker and Teacher, Executive Coach &...

Andrea Raquel

Trained Broadcast Journalist / Marketing Pro & Exper...

Wes Moore

CEO of Robin Hood Foundation, Bestselling Author & U...

Magic Johnson

Basketball Hall of Famer, Entrepreneur, Philanthropi...

Jackson Katz

Anti-Gender Violence Activist / Author

Montel Williams

Emmy Award-Winning Talk Show Host, Best Known For "T...

Jones Loflin

Internationally-Recognized Author & Speaker on Chang...

Amanda Gore

CEO, The Joy Project; Hall of Fame Motivational Spea...
More like Darrius