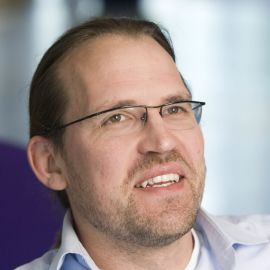 Since joining Microsoft in 2005, Dave Coplin has worked across a wide range of industries and customers, providing strategic advice and guidance around the impact of technology on a modern society both at work and in play. As an established thought leader in the UK and having spent a considerable amount of time in both the public and private sectors providing leadership and guidance around key technology issues like Cloud Computing, Privacy, Big and Open Data, Social Media, Open Government, Advertising and the "consumerisation" of IT. Dave is currently working as the Chief Envisioning Officer for Microsoft UK, helping organisations and individuals envision the full potential that technology offers a modern, digital society.
As a self-confessed technology "alchemist", Dave is passionate about turning the base metal of technology into valuable assets that effect the way that we live, learn, work and play and in so doing, move the focus from the technology itself to the actual outcome.
His first book: "Business Reimagined", provided a view of a new working environment based on collaborative and flexible working. His latest book, "The Rise of the Humans" provides a further call to action, for both individuals and organisations to harness not hate the digital deluge, to rise up and take back control of the potential that technology offers our society.
Prior to joining Microsoft, Dave spent 13 years delivering IT strategy and solutions within the Professional Services industry in the UK, Canada and the Netherlands, helping to build the foundations of a global IT infrastructure.
Dave is a regular contributor to a range of media articles, conferences and forums all relating to the goal of making technology less "visible" and more valuable in our daily lives – many of those conversations are available on this site.
Videos
---
Related Speakers View all
---
Tim Sanders

Bestselling Author, Technology Pioneer, Expert on Co...

Watts Wacker

Futurist & Commentator

Linda Bernardi

AI Strategist, Technologist, Entrepreneur & Innovator

Allyson Kapin

Founder of Women Who Tech; Founder of web agency Rad...

Lauren McGoodwin

Founder & CEO of Career Contessa

Richard Sheridan

CEO of Chief Storyteller, Co-Founder of Menlo Innova...

Jacob Morgan

Business Futurist & Bestselling Author of "The Futur...

Dorie Clark

CEO at Clark Strategic Communications & Author

ShaoLan Hsueh

Previous Tech Writer, Investor and Entrepreneur; Fou...

Cathy Sexton - The Productivity Expert

Ignite Your Performance & Accelerate Your Results

Mac Curfman

...because the work is hard!

Tonisha Pinckney

Empowerment Beyond Victimization - Author of I AM MO...

Elijah Ezendu

Award-Winning Business Expert & Software Architect +...

B. Gentry Lee

Chief Engineer for Solar System Exploration, Jet Pro...

Soraya Darabi

Renowned Digital Entrepreneur; Social Media Pioneer

Eli Pariser

Co-founder & Chief Executive of Upworthy, Author of ...

Tim Rooney

Helping Businesses Grow Profitably and Maintain a Wi...

Andrea Raquel

Trained Broadcast Journalist / Marketing Pro & Exper...

Erik Qualman

Top Digital Transformation Expert, Futurist & Bestse...

Brian Parsley

Sales, Customer Loyalty & Employee Retention Expert
More like Dave