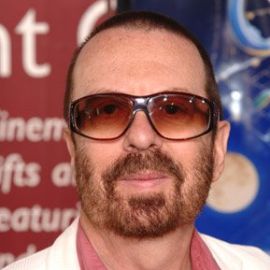 Dave Stewart
A multi-media entrepreneur, Dave Stewart is recognized as one of the most respected and accomplished talents in the music industry today.
A multi-media entrepreneur, Dave Stewart is recognized as one of the most respected and accomplished talents in the music industry today. Beyond his creative work as a musician, Stewart is a renowned producer, writer, and known for his astute business acumen. He was recently named one of the 100 Most Creative People in Business by Fast Company Magazine.
Following its huge success in the United Kingdom, Stewart is set to release his new book The Business Playground: Where Creativity and Commerce Collide (Financial Times / Pearson) worldwide this year. Awarded Business Book of the Month by all major UK retailers, this innovative guide is designed to show business people everywhere how to rediscover their creativity. Through a mix of inspiring creative conversations with Twitter co-founder Evan Williams, Tony Award winning director Matthew Warchus, Microsoft co-founder Paul Allen, and the legendary Mick Jagger; case studies of groundbreaking companies like Google, NASA, and Nokia; stimulating stories; and a quirky selection of idea-inducing games, business people will be able to bring the workplace back to life and unleash their creative potential. The foreword is written by Virgin mogul Sir Richard Branson.
Stewart's career spans more than 25 years and more than 100 million album sales. With Eurythmics' partner Annie Lennox, Stewart delivered ingenious pop / rock hits such as "Here Comes The Rain Again", "Who's That Girl", "Would I Lie To You", "Missionary Man", and "Sweet Dreams (Are Made Of This)". In 1999, the duo was honored with a Lifetime Achievement Award at the Brits, followed by a world tour that saw proceeds donated to Amnesty International and Greenpeace.
One of the most sought-after writers and music producers, Stewart has crafted songs for and collaborated with the likes of Bono, Bryan Ferry, Gwen Stefani, Tom Petty, Anastacia, Celine Dion, and Shakira. He's shared the stage with everyone from BB King, U2, and Eric Clapton to Bruce Springsteen, Mick Jagger, and Bob Dylan. Stewart has won Best British Producer four times and Best British Songwriter five times, as well as numerous Grammy, MTV, and European awards.
A highly-regarded artist and filmmaker, Stewart has scored films for directors Robert Altman, Paul Verhoven, and Ted Demme, and has written and produced the title songs for many hit movies throughout the years. Together with Mick Jagger, he wrote and produced the score for Alfie, starring Jude Law, which won the pair a Golden Globe for Best Original Song. Stewart produced the award-winning documentary Deep Blues, and his feature directorial debut Honest premiered at the Cannes Film Festival in 2000. Stewart and songwriter / producer Glen Ballard recently wrote a musical adaptation of the 1990 Jerry Zucker film Ghost, which will open in London's West End.
As an entrepreneur, Stewart has worked with Microsoft co-founder Paul Allen to create The Hospital, a multimedia creative centre and members club in London. Along with Deepak Chopra, he has launched a creative consultancy, DeepStew, and is the U.S. creative director for The Law Firm, a global creative network in 72 countries. In 2008, Stewart launched the Rock Fabulous concept brand, which embraces the empowerment of the rock and roll attitude for both men and women. On his own, Stewart has established Weapons of Mass Entertainment, a "media company for the new world" (The LA Times), linking creative ideas to a host of projects in film, television, books, theatre, and new media.
For the last three years, Stewart has held the unique title of "Change Agent" for Nokia, the world's largest mobile phone company. He is charged with connecting Nokia to talent, opportunities, and new ideas, while creating new content business paradigms for the entertainment industry. Together, they are engineering a new distribution model for the next generation of the entertainment business.
Described by Bob Dylan as "a fearless innovator," Stewart is an acclaimed public speaker. He regularly advises corporations and businesses on creativity and innovation.
Videos
---
Related Speakers View all
---
Stephan Jenkins

Lead singer, Third Eye Blind

David Gray

David Gray is an English singer-songwriter known for...

Ziggy Marley

Musician, Actor, Author, Artist, & Humanitarian

Malachy McCourt

Celebrated Writer, Storyteller, Radio & TV Host, Leg...

Moby

Musician, DJ, Photographer

Tod Machover

Tod Machover is head of the MIT Media Lab's Hyperins...

Ray Kurzweil

Chairman of Kurzweil Technologies; Inventor; Futurist

Michael Kahn

Artistic Director of the Shakespeare Theatre Company

Edward Burtynsky

World-Renowned Photographer

Ken Burns

Historian & Award-Winning Filmmaker

David Patrick Columbia

Founder, The New York Social Diary

Thom Browne

Founder and Head Designer, Thom Browne Menswear

Paul Muldoon

Pulitzer Prize-winning Irish Poet

Charles Bock

Best-selling Author

Peter Frank

Principal Consultant; Former Editor-in-Chief, Concie...

Robert A. M. Stern

Dean, Yale School of Architecture

James Zemaitis

Senior Vice President & Head of 20th Century Design,...

Kenji Yoshino

Professor, NYU School of Law; Author

Zac Posen

Fashion Designer

Fritz Haeg

Artist and Architect
More like Dave