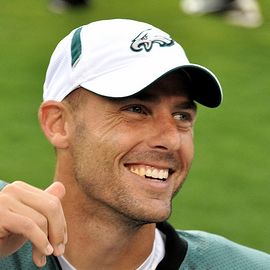 David Akers
Former San Francisco 49ers placekicker; holds NFL single-season record for most points scored by a kicker
David Akers attended college at the University of Louisville. During his four-year career, Akers kicked a school-record 36 field goals (with a long of 51 yards against Texas A&M University), and ranks second in Louisville's all-time scoring list, with 219 points.
Between 1997 and 1998, as an undrafted free agent, Akers spent time trying to make the team with the Atlanta Falcons and Carolina Panthers.
Akers was signed by the Washington Redskins in 1998 and played in one game for them, making two extra points but missing two field goal attempts of 50+ yards each. He was waived during the 1999 season.
After Washington cut Akers, the Philadelphia Eagles claimed him off waivers and allocated him to NFL Europe. A solid season with the Berlin Thunder helped him earn the kicking job for the Eagles in 2000. Akers proved to be one of the biggest special teams surprises in all of the NFL that season. He made 29 out of 33 field goals (an 87.9% success rate), and had a team-record 121 points. Akers earned the NFC Special Teams Player of the Month award in November 2000. He made the Pro Bowl for the first time in 2001 as he went 26-for-31, making a team-record seventeen consecutive field goals during the season.
Akers' best statistical season was 2002 when he connected on 30 of 34 field goals (88.2%), scored a team-record 133 points, and made another Pro Bowl. He got fewer chances in 2003, but still made 24 of 29 field goals. He made the second-longest field goal in Eagles' history on September 14, 2003, a 57-yarder against the New England Patriots at the new Lincoln Financial Field (the only longer field goal in Eagles' history was Tony Franklin's 59-yard field goal in 1979.) In 2004, Akers continued his consistent kicking with an 84.4% field goal percentage, and he made his third Pro Bowl.
Injuries finally got to Akers in 2005 when he tore the hamstring in his non-kicking leg during the opening kickoff against the Oakland Raiders on September 25, 2005. Akers left the game, but returned in the second half with a heavily-taped leg to make two extra points and then kick the game-winning 28-yard field goal before collapsing in pain as his teammates mobbed him. He missed the next four games and finished the season 16 for 22.
On December 16, 2007, in a 10-6 win over the Dallas Cowboys, Akers set the Philadelphia Eagles franchise record for most points and on Thanksgiving in 2008, Akers passed 1,000 career points during a 48-20 win over the Arizona Cardinals.
At the end of the 2008 regular season, Akers again set the team single-season scoring record with an NFC-best 144 points. He connected on 33 of 40 field goals (82.5 pct), his best percentage since 2004.
On January 11, 2009, Akers kicked three field goals in three attempts during a divisional playoff win over the New York Giants. The second of these set an NFL record for consecutive field goals without a miss during the postseason, previously held by one-time Eagle Gary Anderson. Akers eventually ran his streak to a record 19 consecutive postseason field goal conversions.
Akers was selected to the 2010 Pro Bowl, his fourth. He was also named to the NFL All-Decade Team for the 2000s. After the 2010 season, he was selected to his fifth Pro Bowl.
Akers was signed by the San Francisco 49ers to a three-year contract on July 29, 2011. He kicked a 59-yard field goal just before halftime in a preseason game against the New Orleans Saints on August 12, 2011. On September 18, 2011, he kicked a 55-yard field goal against the Dallas Cowboys, setting a record for the longest field goal made at Candlestick Park.
Akers broke the 49ers' record for most points scored in a season in a 20-3 win over the Pittsburgh Steelers in a Monday Night Football matchup on December 19, 2011. The record was formerly held by the 49ers' Hall of Fame wide receiver, Jerry Rice. In that same game against the Seahawks, Akers broke the all-time record for field goals in a season, surpassing Neil Rackers' 40 in 2005.
On January 1, 2012, Akers broke the NFL record for most points by a kicker in a single season against the St. Louis Rams; he finished with 166 points. In this game, he also extended his NFL record for most field goals made in a single season, finishing with 44, and threw for a touchdown on a fake field goal. Akers made his sixth Pro Bowl at the end of the season.
On September 9, 2012, Akers tied the NFL record for the longest field goal by kicking a 63-yard field goal off the crossbar against the Green Bay Packers at Lambeau Field. The record was originally set by Tom Dempsey and is shared with Jason Elam and Sebastian Janikowski. Both Elam's and Janikowski's 63-yard field goals were made at Mile High Stadium, where the ball has the ability to travel slightly farther in thinner air.
In 2001, the Akers family formed the David Akers Kicks for Kids Foundation, which has established programs with the Children's Hospital of Philadelphia to benefit sick children and their families.