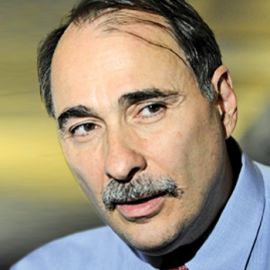 David Axelrod
Senior Strategist, 2012 Obama Re-election Campaign; Director, University of Chicago, Institute of Politics and NBC News/MSNBC
David Axelrod served as senior advisor to President Barack Obama and to the Obama-Biden Presidential Transition, as well as senior strategist to Barack Obama's historic campaign for the presidency in 2008 and his reelection in 2012. Today he serves as director of the Institute of Politics at the University of Chicago and as a senior political analyst for NBC News and MSNBC. He was recently inducted into The American Association of Political Consultants' Hall of Fame. His memoir, BELIEVER: My Forty Years in Politics, will be published on February 10, 2015.
During his time at the White House, Axelrod was the Administration's most frequent presence on influential Sunday talk shows including NBC's Meet the Press, ABC's This Week, CBS's Face the Nation, FOX News Sunday and CNN's State of the Union. He also appeared several times on The Tonight Show, The Daily Show with Jon Stewart and The Late Show with David Letterman.
Axelrod founded the Chicago consulting firm AKPD Message and Media in 1985, and was senior partner there until 2008. At AKPD, he managed media strategy and communications for more than 150 campaigns, with a focus on progressive candidates and causes.
In 2006, Axelrod ran the independent expenditure media program for the Democratic Congressional Campaign Committee, helping Democrats regain the majority in the House of Representatives. Axelrod also served as media adviser to Deval Patrick, who was elected Massachusetts's first Democratic governor in 16 years and the state's first-ever African American governor. In 2004, Axelrod helped then-State Senator Barack Obama win a challenging primary and go on to a landslide win in his U.S. Senate campaign.
Before entering politics in 1984, Axelrod spent eight years as a reporter for The Chicago Tribune, where he covered national, state and local politics. In 1981, he became the youngest political writer and columnist in the paper's history. He also served as the Tribune's City Hall bureau chief.
Active in charitable work in Chicago, Axelrod has supported Special Olympics and Misericordia. In 1998, he and his wife, Susan, helped found Citizens United for Research in Epilepsy (CURE), which has raised over $29 million so far for scientists searching for a cure.
Axelrod was born in New York City, and graduated from Stuyvesant High School and the University of Chicago. He served as an adjunct professor of Communication Studies at Northwestern University and has lectured on political media at Harvard University, the University of Chicago and the University of Pennsylvania. He is married to Susan Landau and has three children, Lauren, Michael and Ethan.
Videos
---
Speech Topics
---
America's Future: Insights from Iconic Presidential Advisor
In his historic first term in office, President Obama succeeded in enacting health-care reform, a financial industry regulatory overhaul, tax cuts and a nuclear arms treaty with Russia among many other legislative accomplishments. What policy issues remain unfinished business for the Obama Administration? What will the President focus on in his remaining time in office and how will he work with a Republican-controlled Congress? What impact does the 2016 race for the White House have on both the Democrats and Republicans? One of President Obama's closest advisors and architect of his two winning historic Presidential runs for the Oval Office, David Axelrod looks at today's headlines and analyzes the key issues at stake over the next two years providing valuable insights from his unique vantage point.
Witness to History: Leadership Lessons from a Presidential Advisor
From the financial crisis and the wars in Iraq and Afghanistan to the fight for health care reform and an unsettled situation in the Middle East, the Obama Administration has been tested with issues of enormous consequences. As President Obama's senior advisor, David Axelrod worked 20 feet from the Oval Office. Now he brings his perspectives on leadership as someone who was in the room as monumental decisions were made affecting the lives of millions, around the world. Drawing on his years as a top strategist and spokesman for the President, Axelrod gives audiences a behind-the-scenes look at life in the White House and what he has learned from his experiences on the world stage.
The Evolving Media and Political Landscape
The 24/7 media cycle, social media and a culture where information is currency have completely changed the face of politics—in some cases for better and in others for worse. A veteran strategist in the field of political communications who started out his career as a newspaperman and political writer for the Chicago Tribune, David Axelrod reflects on the changes that have taken root in the media and what the evolution of technology has meant for the direction of our political discourse at home and abroad. Has our sound-bite culture drowned out thoughtful discussion? Does a culture that embraces talking heads over substance make us less apt to listen to opposing viewpoints? How can we better use new mediums to advance issues of immense importance to our future? Axelrod shares the answers to these questions as he reflects on a rapidly shifting media and political landscape.