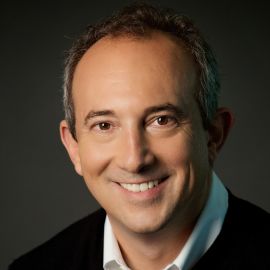 David Agus
Professor of Medicine and Engineering at the University of Southern California, Co-Founder of Navigenics & Author of "The End of Illness"
Dr. David B. Agus is a professor of medicine and engineering at the University of Southern California Keck School of Medicine and Viterbi School of Engineering and the founding CEO of USC's Lawrence J. Ellison Institute for Transformative Medicine. He is one of the world's leading physicians and the cofounder of several pioneering personalized medicine companies. Over the past twenty-five years he's received acclaim for his innovations in medicine and contributions to new technologies that will change how all of us maintain optimal health. He's also built a reputation for having a unique way of looking at the relationship of the human body to health and disease. He explains, "Sometimes you have to go to war to understand peace. My work on the front lines of the cancer war has taught me a lot about all things health related, much of which is surprising and goes against conventional wisdom." As a contributor to CBS News, he comments on important health topics regularly on television.
Dr. Agus specializes in treating patients with advanced cancer. His clinical responsibilities include the development of clinical trials for new drugs and treatments for cancer, supported by the National Cancer Institute and other private foundations (he has no financial ties to pharmaceutical companies). He serves in leadership roles at the World Economic Forum, among other prestigious organizations, and is a recipient of the Ellis Island Medal of Honor. After earning his BA from Princeton University and medical degree from the University of Pennsylvania School of Medicine, he completed his medical residency training at Johns Hopkins Hospital, a research fellowship at the National Institutes of Health, and an oncology fellowship at the Memorial Sloan-Kettering Cancer Center.
Dr. Agus' first book, "The End of Illness," was published in 2012 and is a New York Times #1 and international best seller, and subject of a PBS special. His second book, New York Times best-selling, "A Short Guide to a Long Life," was published January 2014, and his latest book, "The Lucky Years: How To Thrive In The Brave New World Of Health," also a New York Times bestseller was published in 2016. He is presently working on his fourth book, tentatively called "Deep into Nature: What We Can Learn from the Tree of Life."
He lives in California with his wife, two children, and two dogs named Sadie and Georgie.
Speech Topics
---
Future Health 2020 - A Vision for Personal and Corporate Health in the Next Decade
Healthcare is at a remarkable inflection point and advances are happening at a rapid pace, like never before. Dr. Agus will explain the landscape and the advances and discuss a program for the individual and corporation to benefit from these advances.
Worldwide Status of Health Care and Technology
This talk is geared to a more global view than just US. Dr. Agus will discuss some of the major obstacles facing health on both a local and international level.
Health as a Complex System
Dr. Agus will give a framework for understanding the body as a complex emergent system and how that fits into the big picture of health.
The End of Illness
Dr. Agus offers insights and access to breathtaking and powerful new technologies that promise to transform medicine in our generation. In the course of offering recommendations, he emphasizes his belief that there is no "right" answer, no master guide that's "one size fits all." Each one of us must get to know our bodies in uniquely personal ways, and he shows us exactly how to do that so that we can individually create a plan to live longer. This groundbreaking approach will change not only how we care for ourselves but also how we develop the next generation of treatments and cures.
News
---
Dr. David Agus - CBS News
Dr. David Agus is a CBS News contributor, reporting on a broad range of medical topics for the division's broadcasts. He joined CBS News in May 2013 and has ...
'Lucky Years' Author Dr. David Agus Points to the Next Big Things in Health Care
Sky-high drug prices and rising insurance premiums may be grabbing the news headlines, but it's the breakthroughs in medical technology that are making this an exciting time for health care, said Dr. David Agus, author of The Lucky Years.
"We are radically changing health care, and a lot of it is through data and technologies to identify which patient should take which drug, which in the long run makes us healthier and lowers costs.
Dr. Agus' previous books include The End of Illness and A Short Guide to a Long Life. He is a professor of medicine and engineering at the University of Southern California, and heads its Westside Cancer Center and the Center for Applied Molecular Medicine.
Related Speakers View all
---
Daniel Kraft, M.D.

Physician-Scientist; Founder of Exponential Medicine...

Dr. Joel Selanikio

Award-Winning Physician, Health & Technology Activis...

Toby Cosgrove

Former CEO & President at Cleveland Clinic

Marty Makary, M.D.

Healthcare Futurist, Johns Hopkins Surgeon & Profess...

Karen DeSalvo

Chief Health Officer at Google, Former Assistant Sec...

Peter Salgo

Healthcare Futurist, Emmy Award-Winning Health & Sci...

Ray Kurzweil

Chairman of Kurzweil Technologies, Inventor & Futuri...

Dr. Jennifer Ashton

Leading Women's Health Expert & Chief Medical Corres...

Rishi Manchanda

Physician, Public Health Innovator, President & CEO ...

Dr. Michio Kaku

World-Renowned Futurist & Theoretical Physicist

Richard Florida

Leading Urbanist, Economist & Author of "The Rise of...

Sampson Davis, M.D.

Emergency Medicine Physician & Best-Selling Author, ...

Esther Dyson

Executive Founder of Way to Wellville

Dr. Mikhail Varshavski

Known as "Doctor Mike;" Leading Medical Media Voice ...

Susan Dentzer

President & Chief Executive Officer of the Network f...

Sandro Galea

Physician, Epidemiologist, Author & Dean of the Bost...

Deepak Chopra

Co-Founder of The Chopra Center for Wellbeing

R "Ray" Wang

Founder, Chairman & Principal Analyst at Constellati...

Peter Diamandis

Founder & Executive Chairman of the XPRIZE Foundatio...

Nadine Hachach-Haram

Co-Founder Proximie, NHS Clinical Entrepreneur Fello...
More like David