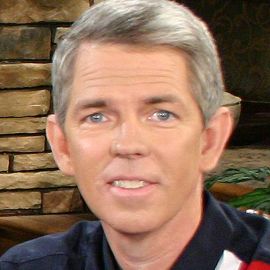 David Barton
Founder and President of WallBuilders, a National Pro-Family Organization
David Barton is the Founder and President of WallBuilders, a national pro-family organization that presents America's forgotten history and heroes, with an emphasis on our moral, religious and constitutional heritage.
WallBuilders is a name taken from the Old Testament writings of Nehemiah, who led a grassroots movement to rebuild the walls of Jerusalem and restore its strength and honor. In the same way, WallBuilders seeks to energize the grassroots today to become involved in strengthening their communities, states, and nation.
David is the author of numerous best-selling books, with the subjects being drawn largely from his massive library of tens of thousands of original writings from the Founding Era. He also addresses well over 400 groups each year.
His exhaustive research has rendered him an expert in historical and constitutional issues and he serves as a consultant to state and federal legislators, has participated in several cases at the Supreme Court, was involved in the development of the History/Social Studies standards for states such as Texas and California, and has helped produce history textbooks now used in schools across the nation.
A national news organization has described him as "America's historian," and Time Magazine called him "a hero to millions - including some powerful politicians. In fact, Time Magazine named him as one of America's 25 most influential evangelicals.
David has received numerous national and international awards, including Who's Who in Education, DAR's Medal of Honor, and the George Washington Honor Medal from the Freedoms Foundation at Valley Forge. His work in media has merited several Angel Awards, Telly Awards, and the Dove Foundation Seal of Approval.
David and his wife Cheryl have three grown children, Damaris, Timothy, and Stephen, and they reside in Aledo, TX.
Related Speakers View all
---
Lisa-Jo Baker

Best-Selling Author & Co-Host of the Out of the Ordi...

Thom S. Rainer

Author, Founder & CEO of Church Answers

Benny Hinn

Israeli Televangelist, Teacher & Best-Selling Author...

Sheila Walsh

Author, Speaker, Worship Leader, Television Talk Sho...

Robert Madu

Christian Speaker & Pastor Passionate About Making E...

Ridley Barron

Former Senior Pastor, Author, Nationally Known Speak...

Walter Brueggemann

Protestant Old Testament Scholar and Theologian; Wid...

John Gray

Christian Comedian, Pastor & Author; Star of "The Bo...

Jennifer O'Neill

Internationally Acclaimed Actress, Christian & Pro-L...

Lauren Chandler

Christian Singer, Author & Lifestyle Blogger

Brenda Warner

Brenda Warner is a speaker, philanthropist, and New ...

Deitrick Haddon

Gospel Singer-Songwriter, Music Producer, & Pastor; ...

Lisa Whelchel

Author, Founder of Momtime Ministries & Actress Know...

Brad Stine

Clean & Conservative Comedian Dubbed "God's Comic" B...

Gene Stallings

Head Coach of 1992 NCAA Football National Champions;...

Jim Morris

Known for His Brief MLB Career & Subject of Disney's...

A.C. Green

Former NBA Star, Nicknamed "Iron Man" & Founder of A...

Dave Dravecky

Former Professional Baseball Player; Cancer Survivor...

Ken Davis

Author, Inspirational & Motivational Speaker

Bobby Bowden

Legendary Former Head Football Coach for Florida Sta...
More like David