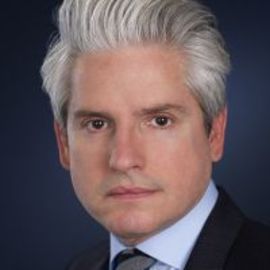 David Brock
Journalist, Author & Democratic Political Activist; Founder of Media Matters for America
David Brock is a political operative, author, commentator, and founder of Media Matters for America and American Bridge 21st Century.
Formerly a conservative journalist, Brock became famous as a critic of Bill and Hillary Clinton. Brock later published several confessional pieces denouncing conservative media before becoming a close ally and consigliere of the Clinton family and Democratic politicians. Brock has been described by Time magazine as "one of the most influential political operatives in the Democratic party." Brock resides in Washington, D.C.
In 2004, Brock founded Media Matters, the nation's premier media watchdog. Following the 2010 elections, Brock founded the Democratic SuperPAC American Bridge, which is one of the largest modern campaign war rooms ever assembled using research, tracking, and rapid response to defeat Republicans.
He is the author of five books, including his 2002 best-selling memoir, "Blinded by the Right: The Conscience of an Ex-Conservative." His writing appears in USA Today, CNN.com, the Huffington Post, the Daily Beast and Salon.
In his 2015 book, "Killing the Messenger," Brock disarms the major tentacles of the Republican Leviathan: the Koch Brothers, the Clinton haters, and the Fox Noise Machine. With the acumen of a seasoned political player, Brock takes readers inside his Democratic war rooms and their 24/7 battles with right-wing forces for control of the story lines and messages that will decide the 2016 election.
Brock graduated from Berkeley with a B.A. in history in 1985.
Videos
---
Books
---
Related Speakers View all
---
Donna Brazile

Veteran Political Strategist, Bestselling Author, Fo...

Wendy Davis

Lawyer & Democratic Politician

Margaret Carlson

Daily Beast Columnist

April Ryan

White House Correspondent, CNN Political Analyst & D...

Jessica Yellin

Founder of #NewsNotNoise; Former Chief White House C...

Tammy Bruce

Political Commentator, Talk Radio Show Host & Author

Maya L. Harris

Former Campaign Chairwoman for Kamala Harris's 2020 ...

Maria Echaveste

Former U.S. Presidential Advisor to Bill Clinton; Co...

Jamal Simmons

Democratic Strategist & Political Commentator

Shirley Franklin

Executive Board Chair of Purpose Built Communities; ...

Sally Kohn

Founder and CEO of Movement Vision Lab; Liberal Poli...

Julianne Malveaux

Author, Economist, Founder & Thought Leader Economic...

Irin Carmon

Author, Notorious RBG, Senior Correspondent, New Yor...

Melanne Verveer

Director of the Georgetown Institute for Women, Peac...

Bakari Sellers

Author, Attorney, Political Commentator & Youngest A...

Betsy Myers

Women's Business and Leadership Expert; Author of "T...

Asra Nomani

Journalist & Author, Women's Rights Activist

DeRay Mckesson

Civil Rights Activist & Host of "Pod Save The People"

Sam Stein

Political Editor at The Daily Beast & MSNBC Contributor

Ambassador Susan Rice

United States National Security Advisor (2013-2017),...
More like David