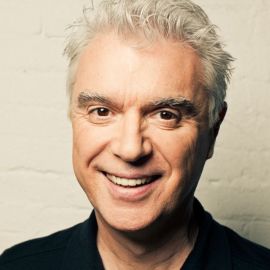 David Byrne
Musician, Artist & Author; Co-founder of the Band "Talking Heads"; Founder of Positive News Magazine "Reasons to be Cheerful"
Musician, author, filmmaker, curator, conservationist, digital music theorist, bicycle advocate, urban designer, visual artist, humanist. David Byrne has many ways of expressing himself; all of them heartfelt, authentic, and thought-provoking.
From his groundbreaking recording career, first with Talking Heads and then as a solo artist and collaborator, to his recent use of digital media to connect his creations to the world, he has been meshing art and technology to create jaw-dropping, soulful masterpieces that tell a story, and often invoke his audience to create some masterpieces of their own. In a recent art installation, Playing the Building, Byrne transformed an empty building into a musical instrument, and then invited visitors to play it.
His book "Bicycle Diaries" is a journal of what he thought and experienced while cycling through the cities of the world. His 2012 book "How Music Works" expands on his 2010 TED Talk to imagine how music is shaped by its time and place.
In 2019, Byrne announced the launch of a new solutions-oriented online magazine called "Reasons to Be Cheerful". RTBC will publish stories detailing real changes with measurable impact that are meant to inspire and uplift. According to Byrne, RTBC will "reveal that there are, in fact, a surprising number of reasons to feel cheerful — that provide a more optimistic and, we believe, more accurate depiction of the world. We hope to balance out some of the amplified negativity and show that things might not be as bad as we think."
Videos
---
Books
---
Related Speakers View all
---
Graham Hill

Founder of Life Edited & TreeHugger.com

Stephen Wolfram

Founder & CEO of Wolfram Research, Inc. & Author of ...

Sir Ken Robinson

Internationally Acclaimed Expert on Creativity and I...

Benjamin Zander

Conductor of the Boston Philharmonic Orchestra; Cele...

Temple Grandin

World-Famous Animal Scientist, Autism Self-Advocate ...

David Rockwell

President, Rockwell Group

David Pogue

Host of NOVA ScienceNow & Yahoo Tech Columnist

Daniel Kraft, M.D.

Physician-Scientist; Founder of Exponential Medicine...

Sean Gourley

Physicist and Founder & CEO of Primer

Dan Ariely

Behavioral Economist; Professor at Duke University; ...

Paola Antonelli

Senior Curator at the Museum of Modern Art in the De...

Thelma Golden

Director and Chief Curator, The Studio Museum in Harlem

Sebastian Wernicke

Managing Director, Seven Bridges Genomics

Kathryn Schulz

Pulitzer Prize winning Journalist and Author, Book C...

Bunker Roy

Founder of Barefoot College

Robert Hammond

Co-Founder and Executive Director of Friends of the ...

Ray Zahab

Ultra-marathon Runner and Adventurer; Host, "The Pro...

Willie Smits

Conservationist & Animal Rights Activist

Dr. Dean Ornish

Physician, Leading Researcher in Healthcare, Founder...

Catherine Mohr

Vice President of Strategy at Intuitive Surgical & P...
More like David