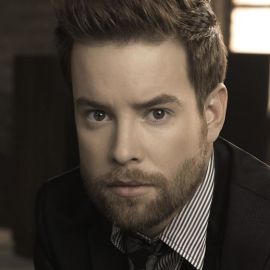 David Cook is a rock singer-songwriter, who rose to fame after winning the seventh season of the reality television show "American Idol." Prior to Idol he released an independent album entitled Analog Heart, followed by his post-Idol major-label debut David Cook, which was released in 2008 and has since been certified platinum by the RIAA. His second major album This Loud Morning was released in 2011.
Cook auditioned for "American Idol" in Omaha, Nebraska, performing Bon Jovi's classic "Livin' On a Prayer." David Cook originally went to the audition solely to support his brother's efforts. However, at his brother's urging, David tried out himself and began a journey toward the championship. One of his most memorable performances was a version of Michael Jackson's "Billie Jean," influenced by Chris Cornell's interpretation of the song. In the "American Idol" finale, David Cook easily defeated David Archuleta taking 56 percent of the vote.
David Cook performed the song "The Time of My Life" at the 2008 American Idol finale. When released as a single it went to No. 6 on the US pop singles chart. After his "American Idol" victory, David Cook brought an incredible 11 performances from the show into the pop singles chart the same week. While participating in the American Idol concert tour, Cook began recording his first post-Idol album.
David Cook was released in 2008 and debuted at No. 3 on the Billboard albums chart. The single "Light On" reached the top 25 on the pop singles chart in early 2009.
His follow-up albums was This Loud Morning.
Videos
---