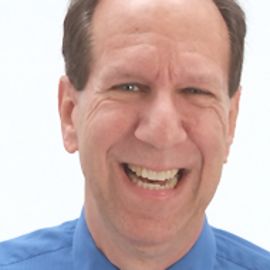 David Glickman
Comedic Entertainer for Healthcare Audiences
David Glickman works with healthcare organizations that want to add some comic relief to their events in order to make them really fun and memorable. With a portable keyboard slung over his shoulders on a strap, he combines humor and music in an exciting customized program unlike anything you've ever seen.
Glickman has been presenting programs to healthcare professionals since 1981. He began his career as director of public relations for the American Heart Association of Greater Miami. In that position he made media appearances and spoke to audiences on the risks of heart disease and stroke.
In 1985, he left the American Heart Association to become a full-time speaker and entertainer. He has presented over 2,000 programs since that time, specializing in finding humor in the hectic healthcare environment.
In addition to his programs for healthcare groups, Glickman has also performed comedy for mainstream audiences. He has appeared on Evening at the Improv and several other national television shows. He has been the opening act for stars such as The Beach Boys, Engelbert Humperdinck, Ellen DeGeneres, and Ray Romano, and even performed at Gloria Estefan's birthday party.
Also a business owner, Glickman shares commonsense business strategies with his corporate audiences. He has owned several comedy clubs in the South Florida area and in Atlantic City Casinos, which garnered praise in Rolling Stone magazine and other publications.
Glickman specializes in customized business humor and is an expert in "finding the funny" in the many Fortune 500 companies to whom he has spoken. He is the author of Punchline Your Bottom Line: 76 Ways to Get Any Business Audience Laughing, with contains a foreword by Dave Barry.
Speech Topics
---
A Dose of Healthcare Humor
This program is designed to serve as a tool for stress reduction in the healthcare workplace. By examining the humor that can be extrapolated from even the most stressful work-related scenarios, the attendees will learn how to "look for the humor" when faced with these situations.
Punchline Your Bottom Line: Get Any Business Audience Laughing
Related Speakers View all
---
Ross Shafer

Six-Time Emmy Award-Winning Comedian, TV Host & Best...

Greg Schwem

Business Humorist, Corporate Emcee, Syndicated Colum...

Chris Bliss

Commentator, American Satirist and Variety Performer

Joel Zeff

Stand-up Comedian, Author & Professional Speaker

Mark Mayfield

Corporate Motivator & Inductee to the Speaker Hall o...

Dale Irvin

The World's Only Professional "Summarizer," Humorist...

Bob Eubanks

Five-time Emmy Award Winning Television Game Show Host

Michael Broome

Motivational Speaker on Balanced Life & Values; Stre...

Steve Rizzo

Hall of Fame Motivational Business Expert & Former N...

Roy Firestone

Award-Winning Journalist, Commentator & Impressionist

Juliet Funt

Founder, Owner & CEO of WhiteSpace at Work

Jeanne Robertson

Humorist, Former Miss Congeniality & Professional Sp...

Mike Rayburn

Thought Leader, Artist & Entertainer

Vicki Lawrence

Actress, Comedian & Women's Activist; Best Known for...

Adam Christing

Emcee, Author, Comedian, Corporate Magician & Entert...

Brinnon and Marks

Entertainment; Motivation; Humor; Arts & Culture; Mu...

Russ Stolnack
Bob Hirschfeld

Business Satirist

Amanda Gore

CEO, The Joy Project; Hall of Fame Motivational Spea...

Tim Clue

Professional Humorist, Corporate Entertainer and Mot...
More like David