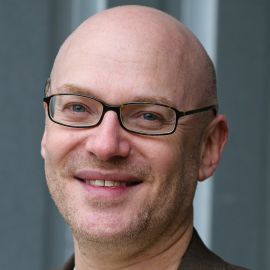 David Granirer, RPC, MPCC, M.S.M, is a counselor, stand-up comic, and mental health keynote speaker. David, who himself has depression has taught stand-up comedy to recovering addicts and cancer patients, and founded Stand Up For Mental Health, his award-winning program teaching comedy to people with mental health issues in 2004. His work is featured by media worldwide and in the VOICE Award-winning Passionate Eye documentary Cracking Up and the award-winning Australian documentary Crack Up.
He has trained Stand Up For Mental Health groups in partnership with various mental health organizations in over 50 cities in Canada, the U.S., and Australia.
He is the recipient of many awards in the realm of mental health including an Award of Excellence from National Council for Behavioral Health, Champion of Mental Health Award, Life Unlimited Award presented by the Depression Bipolar Support Alliance, Rotary Shine On Award in Australia for special achievement in mental health, and a Meritorious Service Medal from the Governor General of Canada for his work with Stand Up For Mental Health. He was recognized as one of the 150 Canadian Difference Makers in mental health.
Since 2004, Granirer and his comics have performed over 500 shows for mental health organizations, government departments, corporations, universities, correctional facilities, and the military.
He also teaches Stand-Up Comedy Clinic at Langara College in Vancouver, where he takes people from all walks of life who have had a secret desire to do stand-up comedy and after eight weeks has them on stage performing at a comedy club. Many of his students have gone on to become professional comics, performing at festivals such as Just For Laughs, and on TV shows like The Tonight Show and Craig Ferguson.
Granirer got the idea for Stand Up For Mental Health from watching students in his Langara Stand-Up Comedy Clinic course. "I've had students overcome long-standing depressions and phobias, not to mention increasing their confidence and self-esteem. There's something incredibly healing about telling a roomful of people exactly who you are and having them laugh and cheer."
His depression began when he was 16. After an increasing downward spiral of drinking and abusing prescription drugs, he attempted suicide by overdosing on pills and was taken to the psych ward. "Seeing people talking about their mental health issues through comedy would have made such a difference to me at that point in my life. To have mental illness brought out of the closet in that way, to have role models who were funny and courageous would have been huge in helping me to overcome my shame. It would have given me hope that recovery is possible."
Stand Up For Mental Health has been featured in hundreds of media stories throughout the English speaking world. All the coverage has been overwhelmingly positive, thus helping to create acceptance and fight the stigma around mental illness.
Granirer is also author of The Happy Neurotic: How Fear and Angst Can Lead to Happiness and Success. The book's premise is that people can be happy, productive, and well-adjusted while remaining as neurotic as ever. Says Granirer, "I got tired of all those self-help books that say you have to be completely confident and spiritually centered in order to succeed. I think those books set people up to fail. I'm basically a neurotic guy, and my fear and anxiety are a fabulous source of motivation. And I think there are lots of people out there like that. We need to be able to celebrate our neurotic ways of getting things done rather than feel ashamed of them."
In addition, he also gives laughter in the workplace presentations to hundreds of organizations across North America, helping them use humor to decrease stress, increase wellness and cope with change.
Videos
---
Speech Topics
---
I'm OK But You Need Professional Help: Using Humor to Fight Stigma!
You have to be nuts to take counselor and stand-up comic David Granirer's Stand Up for Mental Health program where he teaches stand-up comedy to people with mental illness, but the results can be life changing! This hilarious presentation is part comedy and part education. Granirer, who himself suffers from depression, looks at how humor can help fight the stigma around mental illness. Through video clips, you'll also get to see examples of his comedy sketches breaking down barriers by finding the lighter side of his mental health journey.
By doing stand-up comedy, something that most so-called "normal" people would never want to attempt, the Stand Up for Mental Health comics fight stigma by demonstrating what people with mental illness are capable of doing.
Often, conferences bring in experts to talk about mental illness. This is a chance to actually hear from the people who have it. And what they have to say will surprise, delight, and inspire you!
Stand Up for Mental Health Show
Led by counselor and stand-up comic David Granirer, Stand Up for Mental Health teaches people with mental illness to do stand-up comedy about their mental health journeys as a way of building confidence and self esteem. By doing stand-up comedy, something that most so-called "normal" people would never want to attempt, the Stand Up for Mental Health comics fight stigma by demonstrating what people with mental illness are capable of doing.
This show takes a hilarious look at the lighter side of taking meds, dealing with addictions, seeing counselors, getting diagnosed, and surviving the mental health system. It's not only funny, but it makes a great awareness-raising event that helps people reevaluate their attitudes towards mental illness and addictions.
For this show, Granirer will take five to ten consumers from your organization, turn them into stand-up comics, and have them perform with him. You'll laugh your head off and see the courageous, funny, and resilient side of people with mental health issues.
Standing Up for Mental Health: Fighting Stigma in the Workplace!
Mental disability now accounts for 30-40% of workplace disability claims. And people often don't go for the help they need until it's too late.
Why? Because they're ashamed to admit they have mental health issues and afraid of public stigma. So they try to tough it out. But as their mental health deteriorates, so does their work and their relationships with colleagues.
The end result? Problems that could have been dealt with upfront end up costing millions of dollars in disability claims and lost productivity.
Getting the Laughs You Need!
In today's world of mental health, stress is a major challenge to everyone's well being. Laughter is the cure, the best medicine, a cod liver oil for the soul. And the wonderful thing is that unlike cod liver oil, a dose of laughter is not only good for you, it also feels good to take!
Related Speakers View all
---
Joe Pantoliano

Emmy Award-Winning Actor & Film Producer

Dr. Jaime Kulaga

Life Coach, Licensed Mental Health Counselor, Author...

Maurice Clarett

College Football National Champion, Philanthropist &...

Maria Bamford

Actress & Comedian; Known for Netflix's "Lady Dynami...

David Feherty

Golf Commentator on NBC Sports, TV Host, Bestselling...

John Mabry

Actor, Amputee, Addiction & Mental Health Advocate

Jay Pharoah

Actor & Stand-Up Comedian; Former Saturday Night Liv...

Colleen Coffey

Mental Health Advocate, National Speaker & Innovatio...

Brooke Shields

Actress & Mental Health Advocate

Dr. Will Miller

Educator, Psychotherapist, Author & Humorist

Richard Lewis

Comedian and Actor; Known for his HBO Specials and "...

Jay Leno

TV Late Night Show Host, Stand-Up Comedian & Best-S...

Richard Dreyfuss

Academy Award-Winning Actor

Anderson Cooper

Journalist, TV Personality, Anchor of CNN's "Anderso...

Judy Collins

Legendary Folk Singer & Activist

Wayne Brady

TV Personality, Comedian & Actor

Sandra Bernhard

Comedienne, Actress, Singer & Author

Joy Behar

Comedian, Actress & Former Co-Host of "The View"

Ed Begley Jr.

Environmental Activist & Emmy Award-Nominated Actor

Vinny Guadagnino

Reality TV Personality, Author & Actor, Known for "J...
More like David