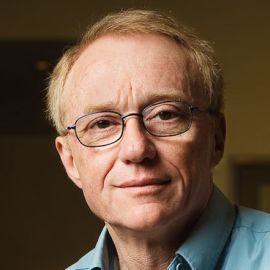 Born in Jerusalem in 1954, David Grossman is a leading Israeli writer of his generation. His work has been translated into more than thirty languages. He is the author of eight internationally acclaimed novels and two powerful journalistic accounts, as well as a number of children's books, and a play.
In March 2014, Falling Out of Time, was released to wide critical and reader acclaim. The genre-defying drama tells the story of bereaved parents setting out to reach their lost children. Concise and elemental, Falling Out of Time is a powerfully distilled experience of understanding and acceptance, and of art's triumph over death. His most recent fiction novel will be published on February 21, 2017. The upcoming A Horse Walks into a Bar is haunting in both its effortless dexterity and dynamic contradiction. The setting is a comedy club in a small Israeli town where an audience awaits an evening of amusement. Instead, they witness a comedian falling apart on stage, and are almost immediately unable to boo, or whistle, or leave in awe of witnessing the comedian's personal hell. Ultimately, the book will deal with suffering, society, truth, and love – all of the most surprising and breathtaking aspects of the human condition.
Considered one of Israel's most perceptive writers, at the podium Grossman's powerful prose comes to life in this rare and extraordinary experience. Expressing the courage, pain, and occasionally brutal truth, of Israeli reality with strength and honesty, Grossman's words will change the way audiences view the world, and perhaps even themselves, proving to be an experience audiences will never forget.
Grossman has been presented with numerous awards including Chevalier de l'Ordre des Artes et des Lettres (France), Prix Eliaette Von Karajan (Austria), The Marsh Award for Children's Literature in Translation (UK), the Buxtehuder Bulle (Germany), the Sapir Prize (Israel), the Premio per la Pace e l'Azione Umanitaria 2006 (City of Rome/Italy), Onorificenza della Stella Solidarita Italiana 2007, Premio Ischia – International Award for Journalism 2007, the EMET Award 2007 (Israel), the Geschwister Scholl Prize 2008 (Germany), the Albatros Prize, awarded by the Gunter Grass Foundation, and most recently, the author has been the recipient of the prestigious Peace Prize of the German Booksellers Association in Frankfurt 2010.
Grossman's work is universally acclaimed. Upon the American publication of To the End of the Land in September 2010, Grossman was profiled in The New Yorker, where George Packer characterizes him as Israel's "secular prophet". On the front page The New York Times Book Review, Colm Toibin wrote: "It is a testament to Grossman's novelistic talent, indeed perhaps his genius, that To the End of the Land manages to create and dramatize a world that gives both the reality and the echo their full due. He weaves the essences of private life into the tapestry of history with deliberate and delicate skill; he has created a panorama of breathtaking emotional force, a masterpiece of pacing, of dedicated storytelling, with his characters whose lives are etched with extraordinary, vivid detail …To say this is an antiwar book is to put it too mildly, and in any case such labels do an injustice to its great sweep, the levels of its sympathy. …This is one of those few novels that feel as though they have made a difference to the world." David Grossman lives with his wife and children in a suburb of Jerusalem.
Videos
---
News
---
Falling Out of Time, by David Grossman, review
At the start of David Grossman's latest book, after five years of being unable to speak about it, a man and a woman remember the moment they were told of their son's death. "The man and woman we had been nodded farewell." The ease of a previous life slips away from them. Until that moment, we are told, the death was like a poison sweet in the mouths of the men who came to tell them the news; they could taste it but were immune to its effects.
Related Speakers View all
---
Tim Sanders

Bestselling Author, Technology Pioneer, Expert on Co...

Scott McKain

Customer Experience Expert & Best-Selling Business A...

Grant D. Fairley

Inspirational Speaker and Teacher, Executive Coach &...

Dave Logan, PhD

Author of New York Times #1 Bestseller "Tribal Leade...

Afterburner

US Fighter Pilots & Team-Building Experts

Dr. Nido Qubein

Award-Winning Speaker and Author, President of High ...

Jones Loflin

Internationally-Recognized Author & Speaker on Chang...

Joseph Grenny

New York Times Bestselling Author; Leading Social Sc...

Dr. Kevin Freiberg

World-Wide Best-Selling Author, Speaker & Advisor

Dr. Jackie Freiberg

Corporate Culture & Leadership Strategist, Best-Sell...

Rolfe Carawan

President of LifeMatters International; Accountabili...

Tony Alessandra

Premier Communications Expert; Author of "The Platin...

Mike Abrashoff

Former Commander of USS Benfold & Author of "It's Yo...

Bradley R Staats

Professor at the UNC Kenan-Flagler Business School &...

Anthony "AB" Bourke

Former F-16 Fighter Pilot & Founder, Mach 2 Consulti...

Cheryl Cran

Future of Work & Change Leadership Expert; Author of...

Dana Brownlee, MBA, PMP

Director of the MBA at University of Oxford & Founde...

Tim Rooney

Helping Businesses Grow Profitably and Maintain a Wi...

Shawn Achor

Harvard Professor, Researcher & Positive Psychology ...

Seth Mattison

Co-Founder & Chief Movement Officer of Luminate Labs...
More like David