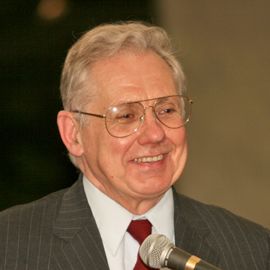 David Hackett Fischer is University Professor and Earl Warren Professor of History at Brandeis University. Fischer's major works have tackled everything from large macroeconomic and cultural trends ("Albion's Seed," "The Great Wave") to narrative histories of significant events ("Paul Revere's Ride," "Washington's Crossing") to explorations of historiography ("Historians' Fallacies," in which he coined the term Historian's fallacy).
He is best known for two major works: "Albion's Seed" and "Washington's Crossing (Pivotal Moments in American History)." In "Albion's Seed," he argues that core aspects of American culture stem from four British folkways and regional cultures and that their interaction and conflict have been decisive factors in U.S. political and historical development. In the Pulitzer Prize-winning "Washington's Crossing," Fischer provides a narrative of George Washington's leadership of the Continental Army during the winter of 1776–1777 during the American Revolutionary War.
In 2008 he published "Champlain's Dream," an exploration of Samuel de Champlain, the French explorer and founder of Quebec City. The book was a runner-up in the 2009 Cundill Prize.
Fischer received a B.A. from Princeton University and a Ph.D. from Johns Hopkins University. He received the 2006 Irving Kristol Award from the American Enterprise Institute. He was admitted as an honorary member of The Society of the Cincinnati in 2006.
Videos
---
Related Speakers View all
---
David Blight

Professor of American History, Yale University; Dire...

Gerald Vizenor

Distinguished Professor of American Studies at the U...

David Barnes

IBM's first official â"technology evangelist" travel...

Dan Hauser

Author, Historian & Entertaining Commentator

Paul Ortiz

Historian, Professor, Author of "An African American...

Paul A. Kramer

Historian & Writer

Michael Auslin

Award-winning Author, Historian & Geopolitical Analyst

Heather Cox Richardson

Author of "To Make Men Free," American History Profe...

Dr. Heather Ann Thompson

Pulitzer Prize and Bancroft Prize Winning Author of ...

Johanna Neuman

Historian, Author, Lecturer on Women's Suffrage & Fo...

Gilbert King

Pulitzer Prize-Winning Author, Known for "Devil in t...

Dan Fagin

Pulitzer Prize-Winning Journalist, Known for "Toms R...

Chris Emery

Chief Enterprise Architect at U.S. Securities & Exch...

Samuel W. Mitcham, Jr.

Author & Historian

Lillian Faderman

Renowned LGBT Historian & Author

Linda Gordon

Award Winning Author, Historian & Feminist

Ron Powers

Pulitzer Prize-Winning Journalist & Author

Malinda Maynor Lowery

Author of "The Lumbee Indians: An American Struggle"

Jane Sherron De Hart

Political Historian & Author of "Ruth Bader Ginsburg...

John Rapley

Journalist, Political Economist at the University of...
More like David