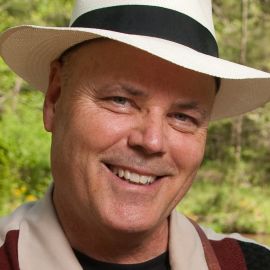 Four-time Grammy Award-winner David Holt is a musician, storyteller, historian, television host and entertainer, dedicated to performing and preserving traditional American music and stories. Holt plays ten acoustic instruments and has released numerous award winning recordings of traditional mountain music and southern folktales.
Holt is well known for his television and radio series. He is host of public television's "Folkways," a North Carolina program that takes the viewer through the Southern Mountains visiting traditional craftsmen and musicians. David also currently hosts the PBS series "Great Scenic Railway Journeys." He served as host of The Nashville Network's "Fire on the Mountain," "Celebration Express" and "American Music Shop." He has been a frequent guest on Hee Haw, Nashville Now and The Grand Ole Opry. David can also be seen as a musician in the popular film, "O Brother Where Art Thou."
David hosts "Riverwalk: Classic Jazz From The Landing" for Public Radio International. Riverwalk, in its 13th year, is broadcast nationally from San Antonio, Texas, and combines stories of the jazz greats told by Holt with the traditional jazz music of the Jim Cullum Jazz Band and guests including Lionel Hampton and Benny Carter.
In 2002, Doc Watson and David won two Grammy Awards for Best Traditional Folk Recording for Legacy, a three CD collection of songs and stories reflecting Doc Watson's inspiring life story.
After graduating from the University of California at Santa Barbara magna cum laude in biology and art, Holt turned toward the southeastern mountains to pursue his growing interest in traditional music and storytelling. He moved to western North Carolina and immersed himself in the vital folk culture there. While collecting the traditional music of the mountains, Holt discovered folktales and true-life stories, which he began integrating into his concerts. He has been exploring and performing this unique form of entertainment ever since, using traditional music and stories in all his performances.
Since 1981, Holt has pursued a full-time career in entertainment. Today, he brings to the concert stage the fun and spirit of old-time music and storytelling. An evening with David Holt offers tales, ballads and tunes told, sung and played on the banjo, slide guitar, guitar, harmonica, bones, spoons and jaw harp. His audiences are constantly involved, learning to play the paper bag, applauding the vitality of his clog dancing, listening to the haunting sound of a 122 year old mountain banjo, or being spellbound by a ghost story.
The songs and tales Holt has collected for the past 20 years have become a part of the permanent collection of the Library of Congress in Washington, D.C. He was awarded a grant from the National Endowment for the Arts to learn the unique music from the South's last traditional hammered dulcimer player, Virgil Craven.
Videos
---
Related Speakers View all
---
Rachel Fine

Howard Stern Show / Watch Rachel on Howard Stern's "...

Josh Rodriguez

Internet,TV & Podcast Host Specializing in the NBA, ...

Allison Hagendorf

Global Head of Rock at Spotify

Stu Nudelman

Host of "Wine Talk with Stu The Wine Guru Radio" Wri...

Henry Rollins

Actor, Musician, Writer, Activist

Chris Doering

Former NFL WR; ESPN; Westwood One

Antonio Pierce

Super Bowl Champion, New York Giants, ESPN Football ...

Roberto Freymann

TV HOST en Televisa

Dee Snider

Daniel "Dee" Snider is an American singer-songwriter...

Bob Boilen

Bob Boilen hosts All Songs Considered on NPR.

Carol Massar

Co-Anchor of "Bloomberg Businessweek" on TV & Radio;...

Zane Lowe

Zane Lowe was born Alexander Zane Reid Lowe on 7 Aug...

Leslie Dodson

Reporter & Videographer Covering International Finan...

The Avett Brothers

American Band from North Carolina Known for "I and L...

Mark DeCarlo

Comedian and Host of the No. 1 iTunes Food & Travel ...

Lisa Oz

Best-Selling Author, Producer, Host & Entrepreneur

Ryan Seacrest

Radio Personality, TV Host & Producer Best Known for...

Maury Povich

Broadcast Journalist & Talk Show Host

Nick Lachey

Singer-Songwriter, Actor & Member of 98°

Craig Kilborn

Broadcaster, Talk Show Host, Comedian
More like David