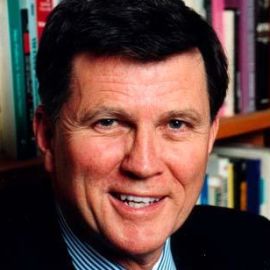 David Kennedy
Pulitzer Prize-Winning Historian & Donald J. McLachlan Professor of History Emeritus at Stanford University
David M. Kennedy, the Donald J. McLachlan Professor of History at Stanford University, is a native of Seattle and a 1963 Stanford graduate. He received his Ph.D. from Yale University in 1968. A renowned teacher, he has been honored with the Dean's Award for Distinguished Teaching and has three times been selected by graduating Stanford seniors as Class Day Speaker. He has taught American history at the University of Florence, Italy, and has lectured on American history in Germany, Finland, Denmark, Turkey, Canada, Australia, and Ireland. In 1995-1996 he served as the Harmsworth Professor of American history at Oxford University. In 2003, he will deliver the Tanner Lectures on Human Values at Oxford.
Kennedy has written about a broad range of subjects in American history. His 1970 book, Birth Control in America: The Career of Margaret Sanger explored the medical, legal, political, and religious dimensions of the subject and helped to pioneer the emerging field of women's history. Over Here: The First World War and American Society used the history of American's involvement in World War I to analyze American culture in the early twentieth century. Freedom from Fear: The American People in Depression and War vividly recounts the nation's encounter with the two great crises of the Great Depression and World War II. Kennedy is also the co-author of a best-selling textbook in American history, The American Pageant, now in its twelfth edition. He is currently working on a book entitled The Americans, an examination of the distinctive features of the American historical experience.
Birth Control in America was honored with both the John Gilmary Shea Prize and the Bancroft Prize. Over Here was a Pulitzer Prize finalist. Freedom From Fear won the Pulitzer Prize, the Francis Parkman Prize, the English-Speaking Union's Ambassador's Prize, and the Commonwealth Club of California's Gold Medal for Literature.
A frequent contributor to The Atlantic Monthly and The New York Times, Kennedy has also appeared on PBS's The Newshour with Jim Lehrer, and in numerous documentary films, including The Great War, Woodrow Wilson, and The American Century, as well as in numerous C-Span, Fox News, and National Public Radio productions. He has served on the Advisory Board for the PBS series The American Experience, and as a director of Environmental Traveling Companions, a service organization for people with disabilities. He is an elected fellow of the American Academy of Arts and Sciences and the American Philosophical Society.
Videos
---
Speech Topics
---
A Tale of Three Cities: How the United States Won World War II
The Great Depression: Some Lessons About the National Character
The Dilemma of Difference in American Democracy
Can the United States Still Afford to be a Nation of Immigrants?
Related Speakers View all
---
Dalia Mogahed

President and CEO, Mogahed Consulting, LLC; Author, ...

John Legend

EGOT Winning Musician, Producer & Philantropist

Anna Deavere Smith

Award-Winning Actress, Playwright, Social Commentator

Mitt Romney

Former Governor of Massachusetts, 2012 Republican Pr...

William Easterly

Professor of Economics at New York University; Co-Di...

Stephen Breyer

Associate Justice of the Supreme Court of the United...

Dr. Anthony Fauci

Director of the National Institute of Allergy and In...

Gerry Adams

President, Sinn Fein

Moby

Musician, DJ, Photographer

Dan Ariely

Behavioral Economist; Professor at Duke University; ...

Patrick Byrne

Founder & CEO, Overstock.com

Shashi Tharoor

Diplomat & Author; Former United Nations Under-Secre...

Calvin Trillin

Author, Columnist, Humorist & Political Satirist

Virginia Postrel

Author & Columnist; Writes on The Intersection of Co...

Parag Khanna

Leading Geo-Strategist & Author

Robert Hormats

Vice Chairman of Kissinger Associates Inc.

Lee Hamilton

Member, President's Homeland Security Advisory Counc...

Sir Richard Branson

Businessman & Founder of Virgin Group

Jeanne Shaheen

fmr. Governor, New Hampshire (D)

Kaleem Clarkson

Remote Work & Employee Experience Advocate
More like David