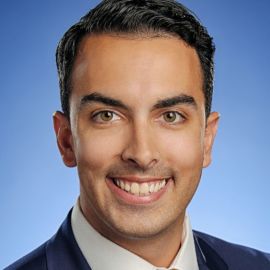 David Marella is a Corporate Associate at Gibbons P.C.Mr. Marella has extensive experience in representing public and private companies, financial institutions, and governmental agencies in connection with mergers and acquisitions, stock and asset purchase transactions, corporate governance matters, credit facilities, public finance, contract drafting, cross-border transactions, and general corporate matters.
In 2017, Mr. Marella received a presidential political appointment to serve in the leadership role of Advisor to the Executive Director of the President's Commission, serving in the White House Office of National Drug Control Policy, a component of the Executive Office of the President. In that role, he advised Governor Chris Christie of New Jersey, as he chaired the bipartisan President's Commission on Combatting Drug Addiction and the Opioid Crisis, which pursuant to an executive order was to study the scope and effectiveness of the Federal response to the opioid crisis and to make recommendations to President Donald J. Trump for improving that response. In addressing the historic health crisis, Mr. Marella collaborated with officials from the White House, Department of Health and Human Services, Department of Justice, Department of Labor, Department of Homeland Security, Department of Veterans Affairs, and the National Security Council.
News
---
David Marella
David Marella on the #ForbesUnder30 2019 30 Under 30 - Law & Policy list.
30 Under 30 2019: Law & Policy
Judged by Eva Shang, Anthony Scaramucci, Risa L. Goluboff and David Axelrod. Share This: Law & ... David Agranovich, 27 ... David Marella, 29. Associate ...