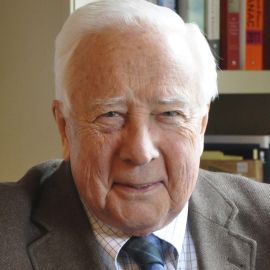 David McCullough has been widely acclaimed as a "master of the art of narrative history," "a matchless writer." He is twice winner of the Pulitzer Prize, twice winner of the National Book Award, and has received the Presidential Medal of Freedom, the nation's highest civilian award.
Mr. McCullough's The Greater Journey: Americans in Paris, the number one New York Times best seller, has been called "dazzling," "an epic of ideas … history to be savored." His previous work, 1776, has been acclaimed "a classic," while John Adams, published in 2001, remains one of the most praised and widely read American biographies of all time.
Mr. McCullough's other books include The Johnstown Flood, The Great Bridge, The Path between the Seas, Mornings on Horseback, Brave Companions, and Truman. His work has been translated and published in 15 countries around the world, and, in all, more than 10,000,000 copies are in print. As may be said of few writers, none of his books has ever been out of print.
David McCullough is as well twice winner of the prestigious Francis Parkman Prize, and for his work overall he has been honored by the National Book Foundation Distinguished Contribution to American Letters Award, the National Humanities Medal and the Gold Medal for Biography given by the American Academy of Arts and Letters. He has been elected to the American Academy of Arts and Sciences, as well as the American Academy of Arts and Letters and has received fifty two honorary degrees.
In a crowded, productive career, he has been an editor, teacher, lecturer, and familiar presence on public television -- as host of Smithsonian World, The American Experience, and narrator of numerous documentaries including Ken Burns's The Civil War. His is also the narrator's voice in the movie Seabiscuit.
John Adams, the seven-part mini-series on HBO, produced by Tom Hanks and starring Paul Giamatti and Laura Linney, was one of the most acclaimed and talked about television events of recent years.
A gifted speaker, Mr. McCullough has lectured in all parts of the country and abroad, as well as at the White House. He is also one of the few private citizens to speak before a joint session of Congress.
Videos
---
Related Speakers View all
---
Van Jones

CNN Contributor; Best-Selling Author; Human Rights, ...

Gloria Steinem

Feminist Writer, Activist & Organizer

Ta-Nehisi Coates

Senior Editor of The Atlantic; Bestselling Author of...

Mitt Romney

Former Governor of Massachusetts, 2012 Republican Pr...

Sir Richard Branson

Founder of Virgin Group

Ray Kurzweil

Chairman of Kurzweil Technologies; Inventor; Futurist

Niall Ferguson

British-American Historian; Laurence A. Tisch Profes...

Dan Ariely

Behavioral Economist, Professor at Duke University, ...

Robert Greene

American Author; New York Times bestsellers The 48 L...

Parag Khanna

The World's Leading Geo-Strategist; Author of Second...

Dan Gilbert

Psychologist; Happiness Expert

Carl Bernstein

Pulitzer Prize Winning Journalist, Author & Politica...

Rob Riemen

Founder, Nexus Institute

Andrew Sean Greer

Novelist and Short-Story Writer

Karen Abbott

Bestselling Author of "Liar, Temptress, Soldier, Spy"

Cory Booker

US Senator from New Jersey and Author of "United"

Moby

Musician, DJ, Photographer

Calvin Trillin

Author, Columnist, Humorist & Political Satirist

Arianna Huffington

Former President & Editor-in-Chief of The Huffington...

Richard Florida

Renowned Economist & Author of "The Rise of the Crea...
More like David