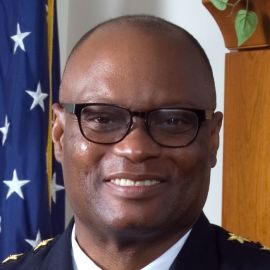 After joining the Dallas Police Department in 1983, Brown worked in patrol divisions, SWAT, and internal affairs. He became first assistant chief of police in 2005; in 2007–08, he served as assistant city manager. He was appointed police chief in April 2010 and sworn into office on May 4, 2010.
The New York Times reported that Brown has "earned a national reputation as a progressive leader whose top priority is improving relations and reducing distrust between the police department and the city's minority residents." He has advocated reducing the use of force and discouraged chasing suspects in cars and even by foot, since such chases often lead to fatalities. According to published reporting, he also has a reputation as a "tough boss" and has fought with the local police union over his emphasis on less-confrontational strategies and his willingness to fire officers, often publicly. He has also sought to increase transparency by equipping officers with body cameras and sought to reform training on the use of lethal force. It has also been reported that some African American residents still feel they are subject to discrimination by the police.
Brown was chief during the 2016 shooting of Dallas police officers that killed five police officers and injured nine others and two civilians. He made the choice to use C-4 explosive delivered by a robot to kill the shooter, Micah Xavier Johnson, who was heavily armed and secured behind a brick corner with no safe way for police to rush Johnson or reach him with a sniper. The killing of Johnson was the first time in United States history a robot was used by police to deliver lethal force against a suspect.
On September 1, 2016, Brown announced that he will be retiring from the Dallas Police Department on October 22, 2016. Despite being the longest serving police chief in recent decades, he gave no reason for his retirement only about 7 weeks after the Dallas police shootings, but the mayor and city manager both said that he was not forced out of office. Brown subsequently moved up his retirement date to October 4, 2016 to better coordinate dates with an upcoming pension board meeting. As of January 7, 2017 Brown is currently serving as a news consultant for ABC News and recently gave insight to the security surrounding the Ft. Lauderdale Airport Shooting.
Videos
---
Related Speakers View all
---
Van Jones

CNN Contributor, Author; Human Rights, Education & C...

Angela Davis

Feminist, Social Activist & Writer

Donna Brazile

Veteran Political Strategist; Bestselling Author; Fo...

Reverend Al Sharpton

African-American Preacher & Activist; Foremost Civil...

Hill Harper

Actor, Author & Philanthropist; Best Known for His R...

David Clarke

Former American Law Enforcement Official

Chris Christie

Senior Legal & Political Commentator of ABC News; Fo...

Maya L. Harris

Campaign Chairwoman for Sister Kamala Harris's 2020 ...

Charles Blow

Visual Op-Ed Columnist for The New York Times; CNN C...

Bob Woodward

Legendary Pulitzer Prize-Winning Journalist & Author...

Dr. Cornel West

Provocative Public Intellectual & Groundbreaking Author

Sally Yates

American Lawyer & Former U.S. Deputy Attorney General

Fred D. Gray

Veteran Civil Rights Attorney; Represented Rosa Park...

Shiza Shahid

Entrepreneur, Technologist, Investor, Impact Leader ...

Gloria Allred

Renowned Women's Rights Attorney; Subject of Netflix...

Marc Lamont Hill

Temple University Professor, Host of BET News, Activ...

Ben Stein

Political Economist, Commentator, Author & Actor

Tavis Smiley

Broadcaster, Author, Publisher, Advocate, and Philan...

Robert Jackson

Commissioner of the U.S. Securities and Exchange Com...

Joyce Vance

Former U.S. Attorney for the Northern District of Al...
More like David