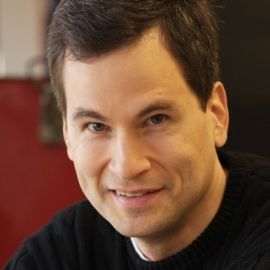 For 13 years, David Pogue was the weekly personal technology columnist for The New York Times. He joined Yahoo in 2013, where he founded a new Web site for non-techies called Yahoo Tech. He's won two Emmy awards for his TV work, which includes hosting "NOVA" on PBS and serving as a correspondent for CBS Sunday Morning since 2002.
With over three million books in print, David is one of the world's best-selling how-to authors. He wrote or co-wrote seven books in the For Dummies series (including Macs, Magic, Opera, and Classical Music). In 1999, he launched his own series of complete, funny computer books called The Missing Manual series, which now includes 120 titles.
David graduated summa cum laude from Yale in 1985 with distinction in music and he spent ten years conducting and arranging Broadway musicals in New York. He has won two Emmys, a Loeb Award for journalism and an honorary doctorate in music. He has been profiled on 48 Hours and 60 Minutes.
Speech Topics
---
Is Mobile Technology Killing Us
Modern mobile technology has transformed every corner of our lives, from business to relationships to education. But we've immersed ourselves in digital tools—the tablets, touch-screen phones, ubiquitous Internet—without much concern for the potential dangers.
It's no secret that our children are dying on the highways as they text while driving. But what about cell phone radiation causing brain cancer? What about the obesity epidemic? What about studies that show how the multiple-gadget multitasking habits of college kids are causing permanent changes in their brains?
Nobody stands in such a sweet spot of science and technology as David Pogue, tech columnist for Yahoo! and host of PBS's NOVA series. In this fascinating and entertaining talk, he'll bring you the very latest scientific research on these techno-dangers. He'll tell you what's genuinely worth worrying about and why there's also room for hope.
Why America's Failing Science & How We Can Turn It Around
The STEM fields (science, tech, engineering, and math) drive America's economy: it's no accident that Apple, a tech company, is the world's biggest corporation. Science and technology fuel the country's commerce, defense, and business.
But American test scores, graduation rates, and STEM dominance have been declining steadily for 20 years. Fewer than a third of elementary and high school students have a solid grasp of science. Half of American college students start out majoring in a technical subject but somehow, only 470,000 graduate in those majors. What's going on? And how can we compete if we don't fix the situation, fast?
In this fascinating, cutting-edge presentation, David Pogue looks at our chances for turning around America's science future.
How Smart Can We Get
As the new NOVA scienceNOW host, David Pogue veers into the realm of popular science education, most famously helmed by the likes of Bill Nye "The Science Guy" and Neil deGrasse Tyson. He tackles an array of thought-provoking topics such as "How Smart Can We Get?", in which he finds out how the anatomy of his brain measures up to Albert Einstein's; "What Are Animals Thinking?", in which he races against homing pigeons without the aid of his iPhone's GPS; and "Can Science Stop Crime?", in which he tries to outsmart computerized lie detectors.
With his engaging personality and tireless enthusiasm, David Pogue answers common and uncommon scientific riddles, promising to simultaneously entertain and educate your audience.
Disruptive Tech: What's New, What's Coming & How It Will Change Everything
As Yahoo's tech reviewer, David Pogue has a front-row seat to observe the blazing-fast torrent of new inventions. Hundreds of gadgets and technologies come down the pike every year and plenty get lots of press… even though most of it is junk.
In this fast, funny presentation, Pogue will stick his neck out to predict which will actually cause major, disruptive changes. He'll display, discuss, and even demonstrate the technological advances—in personal entertainment, cellular tech, Web 2.0, and more—that will have the greatest impact on society in the coming years.
Web 2.0, Social Media & Other Buzzwords
What do YouTube, MySpace, eBay, and Craigslist have in common? They're all part of "Web 2.0," in which a website's material is supplied by its visitors.
What do blogs, vlogs, and podcasts have in common? They're all new ways for individuals—and even corporations—to express themselves online.
In this head-spinning talk, David Pogue, Yahoo! tech columnist, helps make sense of the explosively expanding realm of Web 2.0 and all kinds of casting. He'll advise both individuals and companies on how to exploit these live-wire technologies, supply some horrifying and hilarious real-world stories, and hint at the future, the pitfalls, and the rewards of these revolutionary new channels.
Why Products Fail
In his years reviewing tech products for Yahoo! and The New York Times, David Pogue has seen his share of turkeys. Many were such obvious failures a kindergartener could have spotted them. Sometimes, the problem is the design. But more often, the problem is procedural, having to do with misfires in communication, PR, marketing, or groupthink. In this entertaining talk, he'll revisit some horrifying disasters from his journalism career—and, more importantly, pick apart how things went off the tracks.
Blogs vs. Journalism
It's been said over and over again that blogs unleash the power of the citizen journalist. A new day has dawned, in which news can hit the web instantly, long before the mainstream media gets around to it. That, after all, is how so many of the great scandal stories have broken in the last few years.
But is blogger journalism actually journalism? David Pogue obviously has an opinion—but it might not be the one you expect. In this funny, thought-provoking talk, he tries to pin down the pros and the cons of the blogger as journalist, as well as the journalist as blogger, and offers a few suggestions that might give the public the best of both worlds.
The Digital Generation Comes of Age
For the last 20 years, computers and technology have been part of the everyday curriculum for a generation or two of digitally privileged kids—and, as they become the majority, it's showtime. As computer-literate children become America's new leaders, visionaries, and designers, how will their digital upbringing affect society and culture? Yahoo! technology columnist David Pogue takes a thoughtful, funny look at how the tidal wave will hit as the digital generation enters primetime: what we'll gain, what we'll lose, and what beliefs and approaches will shift into something we've never seen before.
The New Self-Diagnosis Tech: Do We Want This?
Consumer Self-Help: The Double-Edged App
The Quantified Self: When Patients Become Doctors
Technology has made it easier than ever to track your activity levels, your sleep cycles, how you spend your time, self-diagnose yourself and more. The self trackers who near-obsessively capture and analyze their own data are part of a growing "Quantified Self" movement.
Consumer access to medical information from the Web has always been a blessing and a curse. While patients are more empowered and informed than they have ever been, new medical apps and devices are creating a world of self-testing, self-diagnosing patients, opening the healthcare industry up to a host of potential problems. Can patients be trusted to use these new devices correctly? Technologies that record heart rate and oxygen saturation, quantified-self gadgets such as Fitbit, Up and Garmin; tracking apps like the new Apple Healthkit app, apps for practitioners such as Epocrates, Anatomy Lap and OsiriX; and urinalysis devices working in tandem with your smartphone, are disrupting healthcare. And what about the issue of privacy?
In this intriguing and entertaining presentation, David Pogue explores these questions, provides some answers and demonstrates some of these new gadgets and apps, offering a clear view on how these new technologies are changing—and will continue to change—the healthcare landscape. David Pogue discusses this new movement—its benefits and drawbacks—and explores the exciting new territory that quantifiable data brings to the table.
David Pogue's Tech Update
If you want to know what is going on in the world of technology, Yahoo! columnist David Pogue is the perfect tour guide.
This talk is constantly updated to represent what's going on in tech right now, whether it's the gadgets themselves, amazing free Internet services, or social-media shockwaves. Originally designed for groups who hire Pogue to return to their conferences each year (so they'd be sure to see fresh, funny material every time), this speech is a great stand alone and highly entertaining crash course in what's worth knowing about at the time of your event.
Related Speakers View all
---
Jeff Jarvis

Leader in the Development of Online News & Blogging;...

Ray Kurzweil

Chairman of Kurzweil Technologies; Inventor; Futurist

Clay Shirky

Expert on New Technology & Social Media, & How They ...

Graham Hill

Founder of Life Edited & TreeHugger.com

Parag Khanna

Leading Geo-Strategist & Author

Dr. Michio Kaku

World-Renowned Futurist & Theoretical Physicist

Richard Florida

Leading Urbanist, Economist & Author of "The Rise of...

Calvin Trillin

Author, Columnist, Humorist & Political Satirist

Dan Ariely

Behavioral Economist; Professor at Duke University; ...

Peter Thiel

Former CEO and Co-founder of PayPal; Technology Entr...

R "Ray" Wang

Founder, Chairman & Principal Analyst at Constellati...

Sir Richard Branson

Businessman, Founder of Virgin Group

Jason Silva

Emmy-nominated TV Personality; Futurist; Host of Nat...

John Legend

EGOT Winning Musician, Producer & Philantropist

Daniel Burrus

Technology Futurist, Business Strategist & Hall of F...

Daniel Altman

Sports Analytics & Strategy Expert

Gary Vaynerchuk

Co-Founder & CEO of VaynerMedia

Jeremy Rifkin

Leading Global Technologist, Futurist, Authority on ...

Nelson George

Author / Filmmaker

Majora Carter

Real Estate Developer, Peabody Award-Winning Broadca...
More like David