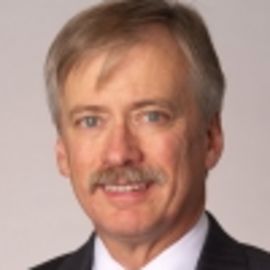 David Pumphrey
Deputy Director and Senior Fellow, Energy and National Security Program
David Pumphrey is a senior fellow and deputy director of the CSIS Energy and National Security Program. He has extensive public-sector experience in international energy security issues. He was most recently deputy assistant secretary for international energy cooperation at the Department of Energy.

During his career with the federal government, he led the development and implementation of policy initiatives with individual countries and multilateral energy organizations. He was responsible for policy engagement with numerous key energy-producing and energy-consuming countries, including China, India, Canada, Mexico, Russia, Saudi Arabia, and the European Union. Pumphrey represented the U.S. government on the technical committees of the International Energy Agency and the Energy Working Group of the Asia Pacific Economic Cooperation forum. He also represented the Department of Energy in the negotiations of the energy-related sections of the U.S.-Canada Free Trade Agreement and the North American Free Trade Agreement.

Pumphrey received a bachelor's degree in economics from Duke University and a master's degree in economics from George Mason University. He has spoken extensively on international energy issues and testified before Congress on energy security issues related to China and India.

Speech Topics
---
A ROADMAP FOR A SECURE, LOW-CARBON ENERGY ECONOMY, ASIAN REGIONALISM INITIATIVE, CHINA'S SECURE, LOW CARBON PATHWAY, ENERGY AND NATIONAL SECURITY, OPPORTUNITY TIPPING POINT, SECURE, LOW CARBON PATHWAYS: NATIONAL DIMENSIONS
Related Speakers View all
---
Sarah O. Ladislaw

Co-Director and Senior Fellow, Energy and National S...

Luis E. Giusti

Senior Adviser

Edward C. Chow

Senior Fellow, Energy and National Security Program

Sharon Squassoni

Director and Senior Fellow, Proliferation Prevention...

Sidney Weintraub

William E. Simon Chair in Political Economy, Emeritus

Anthony H. Cordesman

Arleigh A. Burke Chair in Strategy

Persis Khambatta

Fellow, Wadhwani Chair in U.S.-India Policy Studies

Jeffrey P. Pellegrino

Military Fellow, International Security Program

Ernest Z. Bower

Senior Adviser and Chair for Southeast Asia Studies

Scott Aughenbaugh

Deputy Director, Strategic Futures, CSIS

J. Christopher Daniel

Senior Associate (Consultant), Global Health Policy ...

Brian Penoyer

Military Fellow, International Security Program

Stephen Johnson

Director, Americas Program

David T. Johnson

Senior Adviser (Non-resident), Americas Program

Yu Ye

Visiting Fellow, Freeman Chair in China Studies

Jane Nakano

Fellow, Energy and National Security Program

Gregory Sanders

Fellow, Defense-Industrial Initiatives Group

Guy Ben-Ari

Deputy Director and Senior Fellow, Defense-Industria...

Gerald Hyman

Senior Adviser and President of Hills Program on Gov...

Kristin Fisher-Goodwin

Military Fellow, Project on Nuclear Issues, Internat...
More like David