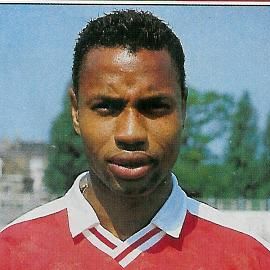 David Regis
Professional Soccer Player; World Cup Champion
David Regis began his pro career in 1988 with Valenciennes and played there until 1993. He then transferred to Strasbourg in 1993, Lens in 1996, and Karlsruhe in 1997. That last move was designed to get noticed by the French national team by playing in Germany's Bundesliga, a league considered superior to France's Ligue 1. But when interest was not shown by the French, Regis looked for other options to play internationally.
Since Regis' wife was an American citizen, an option to play for the United States appeared. Steve Sampson, the U.S. national coach, jumped at the chance of having an experienced left back on the World Cup squad,and Regis was naturalized on May 20, 1998 and received his first cap against Kuwait just three days later. Despite speaking very little English and playing with the team for the first time less than a month before the World Cup started, Regis received the starting spot from Sampson in front of long-time starter Jeff Agoos. To add insult to injury, Agoos had to room with Regis and teach him English in the process.
Regis played all three matches in the World Cup, as the U.S. lost all three. He transferred to Metz after the tournament, spent four years there, and then spent a season at Troyes. Regis made the U.S. roster for the 2002 World Cup as well, but this time did not play a minute. He retired with 28 caps for his adopted country. Since the 04/05 season, Regis has spent his time playing in the lower levels of the Belgian leagues with FC Bleid.