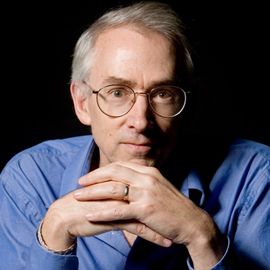 David Sloan Wilson
SUNY Distinguished Professor of Biology and Anthropology at Binghamton University
David Sloan Wilson is SUNY Distinguished Professor of Biology and Anthropology at Binghamton University. Is is the co-founder of the Evolution Institute, a non-profit think tank that seeks to apply evolutionary science to social issues.
Wilson is widely known for his fundamental contributions to evolutionary science and for explaining evolution to the general public. His books include: "Evolution for Everyone: How Darwin's Theory Can Change the Way We Think About Our Lives;" "Darwin's Cathedral: Evolution, Religion, and the Nature of Society;" and "Unto Others: The Evolution and Psychology of Unselfish Behavior" (with Elliot Sober). In addition to his own research, Dr. Wilson manages programs that expand the scope of evolutionary science in higher education, public policy, community-based research, and the study of religion.
Wilson holds a BS in Biology from the University of Rochester and a PhD in Zoology/Animal Biology from Michigan State University.
Videos
---
Related Speakers View all
---
Michael Archer

Paleontologist Michael Archer is working to bring ba...

David Sengeh

Chief Innovation Officer, Government of Sierra Leone

Peter Girguis

Associate Professor of Natural Sciences at Harvard; ...

Penny Chisholm

Award-Winning Oceanographer

John Novembre

Computational Biologist & Associate Professor, Depar...

Sylvia Hurtado

Professor of Education & Information Studies at UCLA...

Wilton Virgo

Harvard-MIT Scientist, TED Educator, STEM Speaker, O...

Karen Wynn

Professor, Department of Psychology and Cognitive Sc...

Jo Boaler

Professor of Mathematics Education at Stanford Unive...

Gene Block

Chancellor, University of California, Los Angeles

Carol Geary Schneider

Former President of the Association of American Coll...

Dr. Hendrik Poinar

Evolutionary Biologist Specializing in Ancient DNA

Marla Spivak

Marla Spivak is an entomologist who is developing pr...

Mitch Resnick

Mitchel Resnick is LEGO Papert Professor of Learning...

Tyler DeWitt

Research Scientist; High School Teacher, Digital Con...

John Medina

Scientist Interested in Human Brain Development & th...

Read Montague

An American neuroscientist and popular science autho...

Dr. Gregory Stock

Healthcare Futurist & Biotech Pioneer

Rae Pica

Early Childhood Education Consultant, Author

Mike Seidenberg

Professor & Author of "Language at the Speed of Sigh...
More like David