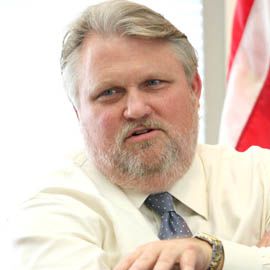 David Smick is Chairman and CEO of Johnson Smick International, Inc. a financial market advisory firm based in Washington, D.C. Founded in 1985, the firm was the first of its kind to provide information services on important global economic and political/policy changes to the large macroeconomic-oriented hedge funds and proprietary trading desks of large financial institutions.
Smick, confers regularly with the world's most prominent central bankers and financiers, is one of the most insightful financial policy strategists in the world.
He is also the founder, editor, and publisher of the acclaimed quarterly, The International Economy. Smick has been published widely, including The New York Times, The Wall Street Journal, and The Washington Post.
David Smick has advised both Democratic and Republican presidential candidates, including Ronald Reagan and Bill Bradley.
Smick wrote an acclaimed book The World Is Curved on the financial perils of globalization, in response to The World Is Flat bestseller by Thomas Friedman. Smick's most recent book, The Great Equalizer: How Main Street Capitalism Can Create an Economy for Everyone (2017), reached the New York Times Bestseller list. The book identified the conditions that lead to the unexpected rise of both 2016 Democratic primary candidate Bernie Sanders and Republican Donald Trump.
Related Speakers View all
---
Matt Miller

Fortune Columnist, Author & Radio Host

Clive Crook

Columnist and member of the editorial board at Bloom...

Robert Hormats

Vice Chairman of Kissinger Associates Inc.

Lee Ohanian

Economic Columnist, Professor & Research Director

Seth Berkley

CEO of Gavi, the Vaccine Alliance; Medical Doctor Sp...

Nicholas Burns

Professor of the Practice of Diplomacy & Internation...

Moby

Musician, DJ, Photographer

David M. Rubenstein

Co-Founder & Co-CEO of The Carlyle Group

Dan Glickman

Vice President of the Aspen Institute & Senior Fello...

Bruce Bartlett

Author, Historian & Economist; Former Policy Adviser...

David Rothkopf

Former U.S. Under Secretary of Commerce and Former C...

Peter Thiel

Former CEO and Co-founder of PayPal; Technology Entr...

Matthew Bishop

Managing director, Rockefeller Foundation and Former...

Muhammad Yunus

Nobel Peace Prize Laureate & Founder of Grameen Bank...

Joseph Stiglitz

American Economist, Professor at Columbia Universit...

Peter Orszag

Economist, Vice Chairman of Corporate and Investment...

Ralph Nader

Former Presidential Candidate for the Green Party, C...

Mickey Edwards

Vice President & Program Director, Rodel Fellowships...

Lionel Barber

Editor In Chief, Financial Times

Chris Webber

Former NBA Power Forward, Number One NBA Draftee & F...
More like David