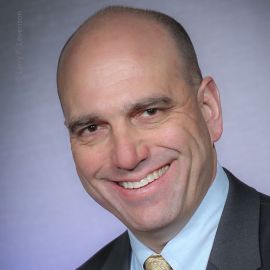 David Von Drehle is a columnist for The Washington Post, where he writes about national affairs and politics.
Von Drehle started his career in journalism at 17 years old, working with The Denver Post as a sports writer from 1978 to 1983, where he was the youngest sports writer that the paper has had. From there, he moved on to the Miami Herald in 1985 and stayed on with the paper until 1991 as a staff writer. While writing for the Miami Herald, Von Drehle was awarded a Livingston Award, an American Bar Association's Silver Gavel Award for excellence in Media and the Arts, and an American Society of News Editors Distinguished Writing Award.
In 1991 Von Drehle became the New York bureau chief for The Washington Post. A year later, he was sent to New Hampshire to cover the 1992 presidential primary, thus beginning his career as a political writer. He went on to be the editor of the Arts section, and the Assistant Managing Editor in charge of the Style section. Von Drehle left The Washington Post in 2006 to become Editor-at-Large for Time. He rejoined The Post in 2017 after a decade at Time magazine, where he wrote more than 60 cover stories.
He is also the author of a number of books, including the award-winning bestseller "Triangle: The Fire That Changed America," and a recurring contributor to NPR's "Morning Edition."
He earned his B.A. in 1983 from the University of Denver, where he was also a Boettcher Foundation Scholar and editor of the Denver Clarion, the student newspaper. In 1985 Von Drehle graduated from Oxford University with a Masters in Literature as a Marshall Scholar.
Videos
---
Books
---
News
---
David Von Drehle - The Washington Post
David Von Drehle writes a twice-weekly column for The Post. He was previously an editor-at-large for Time Magazine, and is the author of four books, including " Rise to Greatness: Abraham Lincoln and America's Most Perilous Year" and " Triangle: The Fire That Changed America."
David Von Drehle returns to The Washington Post as an opinion ...
"Anyone who has read anything by David Von Drehle immediately notices the byline. He's an iconoclastic thinker and gifted writer who combines a heartland sensibility with a deep intellectual bent," said Fred Hiatt, editorial page editor for The Post. "David has an unerring instinct for the perfect but unexpected word, ...
Related Speakers View all
---
Bob Woodward

Legendary Pulitzer Prize-winning Journalist/Author a...

Richard Lui

Journalist, Anchor of NBC News' "Early Today Show" &...

Gary Younge

Professor of Sociology at the University of Manchest...

Sacha Pfeiffer

Reporter & Writer for NPR, Former Reporter for The B...

Jodi Kantor

Pulitzer-Prize Winning Journalist & Author

Juan Williams

New York Times Best-Selling Author, Fox News Politic...

Ben Stein

Political Economist, Commentator, Author & Actor

Katty Kay

Lead Anchor for BBC World News & Best-Selling Author

Laura Ingraham

Political Commentator, Television Host & Journalist

Sarah Kliff

Health Policy Journalist & Senior Policy Corresponde...

Holly Bailey

National Correspondent for Yahoo News; Former Newswe...

William McGurn

Columnist for The Wall Street Journal; Former Speech...

Philip Rucker

White House Bureau Chief for The Washington Post

Sam Stein

White House Correspondent for Politico & MSNBC Contr...

Paul Brandus

White House Correspondent & Award-Winning Author of ...

Sharyl Attkisson

Emmy Award-Winning Investigative Journalist & Author

Jason Mattera

Emmy-Nominated Journalist, Conservative Activist & A...

John Heilemann

Co-Host, "With All Due Respect;" Managing Editor, Bl...

Nicholas Kristof

Pulitzer Prize-Winning New York Times Columnist & Po...

David Andelman

Executive Director of The Red Lines Project, Award-W...
More like David