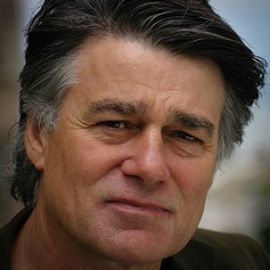 David Whyte is a poet, author and internationally acclaimed speaker. He is the author of six books of poetry and three books of prose. His poetry collections include Pilgrim (2012) and River Flow: New and Selected Poems (2007), and Consolations: The Solace, Nourishment and Underlying Meaning of Everyday Words.
Whyte's life as a poet has created a readership and listenership in three normally mutually exclusive areas: the literate world of readings that most poets inhabit; the psychological and theological worlds of philosophical enquiry; and the world of vocation, work, and organizational leadership.
An Associate Fellow at Templeton College and Said Business School at the University of Oxford, he is one of the few poets to take his perspectives on creativity into the field of organizational development, where he works with many European, American, and international companies. In spring of 2008, he was awarded an honorary doctorate from Neumann College, Pennsylvania.
In organizational settings, using poetry and thoughtful commentary, he illustrates how we can foster qualities of courage and engagement, qualities needed if we are to respond to today's call for increased creativity and adaptability in the workplace. He brings a unique and important contribution to our understanding of the nature of individual and organizational change particularly through his perspectives on Conversational Leadership.
Videos
---
Speech Topics
---
SOLACE: The Art of Asking the Beautiful Question
An Evening with David Whyte
Related Speakers View all
---
Dr. Jim Yong Kim

President of the World Bank

Jake Layes

Director, Global Cleantech & Entrepreneur Impact, Au...

Fiona Pelham

Founder of "Sustainable Events" & "Positive Impact",...

Jamais Cascio

Author, Founder of Open The Future, Co-founder of Wo...

Dianne McGrath

Researcher, Consultant & Mars One Astronaut Candidat...

Daniela V. Fernandez

Founder of Sustainable Ocean Alliance

Josh Henretig

Senior Director of Sustainability and AI for Earth a...

Jane Kearns

Sustainable Innovation Expert

Victoria Herrmann

Managing Director of The Arctic Institute

Bea Johnson

Founder of the Zero Waste Lifestyle Movement, Blogge...

Rick Cook

Founding Principal, COOKFOX Architects

Suzanne DiBianca

Executive Vice President of Corporate Relations and ...

Euan Murray

Chief executive officer, The Sustainability Consortium

Justin Mog

Assistant to the Provost for Sustainability Initiati...

David Clark

Vice President, Sustainability, Amcor

Kevin Cronin

Vice-President, Sustainability and Research & Develo...

Keefe Harrison

Chief Executive Officer, The Recycling Partnership

Jeffrey Perlman

President and Founder, Bright Power

Nancy Gillis

Chief Executive Officer, Green Electronics Council

Christopher Davis

International Director of Corporate Social Responsib...
More like David