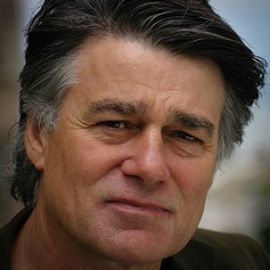 David Whyte
Acclaimed Poet & Naturalist
Poet David Whyte grew up with a strong, imaginative influence from his Irish mother among the hills and valleys of his father's Yorkshire. He now makes his home, with his family, in the Pacific Northwest of the United States.
The author of six books of poetry and three books of prose, David Whyte holds a degree in Marine Zoology and has traveled extensively, including living and working as a naturalist guide in the Galapagos Islands and leading anthropological and natural history expeditions in the Andes, the Amazon, and the Himalayas. He brings this wealth of experience to his poetry, lectures, and workshops. His poetry collections include Pilgrim (2012) and River Flow: New and Selected Poems (2007). A new book of essays, Consolations: The Solace, Nourishment and Underlying Meaning of Everyday Words, was published by Many Rivers Press in 2014.
Whyte's life as a poet has created a readership and listenership in three normally mutually exclusive areas: the literate world of readings that most poets inhabit; the psychological and theological worlds of philosophical enquiry; and the world of vocation, work, and organizational leadership.
An Associate Fellow at Templeton College and Said Business School at the University of Oxford, he is one of the few poets to take his perspectives on creativity into the field of organizational development, where he works with many European, American, and international companies. In spring of 2008, he was awarded an honorary doctorate from Neumann College, Pennsylvania.
In organizational settings, using poetry and thoughtful commentary, he illustrates how we can foster qualities of courage and engagement, qualities needed if we are to respond to today's call for increased creativity and adaptability in the workplace. He brings a unique and important contribution to our understanding of the nature of individual and organizational change particularly through his perspectives on Conversational Leadership.
Videos
---
Speech Topics
---
SOLACE: The Art of Asking the Beautiful Question
An Evening with David Whyte
Related Speakers View all
---
Dr. Jim Yong Kim

President of the World Bank

Jake Layes

Director, Global Cleantech & Entrepreneur Impact, Au...

Fiona Pelham

Founder of "Sustainable Events" & "Positive Impact",...

Jamais Cascio

Author, Founder of Open The Future, Co-founder of Wo...

Charles Goddard

Editorial director, Asia-Pacific, The Economist Inte...

Nick Tilsen

Native American Activist, Director of the Thunder Va...

Andrew Burr

Policy Advisor, U.S. Department of Energy's Building...

Chris Castro

Director of Sustainability, City of Orlando, FL

Reimund Schwarze

Professor for Environmental Economics, University of...

Beth Heider

Chief Sustainability Officer, Skanska USA Inc.

Fatou Ndoye

Deputy Regional Director of United Nations Environment

Jason Green and Matt La Rosa

Cofounders, Edenworks

Jean-Francois Barsoum

Senior Managing Consultant, Smarter Cities, Water an...

Ricardo Salvador

Director, Food & Environment Program, Union of Conce...

Urvashi Rangan

Previous executive at Consumer Reports, now runs her...

Sivan Ya'ari

Founder and CEO, Innovation Africa

Tony Juniper

British Campaigner, Writer, Sustainability Advisor, ...

Nancy J. Zavada

Founder of MeetGreen, Author

Erin Schrode

"The Green Girl;" Expert on Health, Sustainability a...

John Mesko

John Mesko is a farmer, an educator and a key though...
More like David