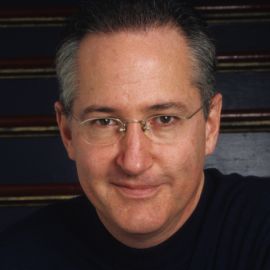 David Zach is one of the few professionally trained futurists on this planet, having earned a master's degree in Studies of the Future from the University of Houston-Clear Lake. Of course, this was way back in the 1980s, so it's pretty much history by now. Since then, Dave has worked with over 1400 associations, corporations and colleges offering insights on the personal and professional impact of strategic trends. In other words, he gives funny and thought-provoking keynote speeches on the future of technology, economics, business, education, demographics and society.
He reads a lot – and he reads a lot more about the past than he does about the future. He knows that change is vital but it's also overrated and in this time of tumultuous change, it's far more important that we find the things that don't change and shouldn't change. Tradition and change are really choices, and we are only prepared to choose wisely when we look far and wide for causes, implications and lasting value.
Dave has only had two real jobs; one with Northwestern Mutual and the other with Johnson Controls in the roles of environmental scanning and strategic planning. Along the way, he taught Future Studies in the School of Education at the University of Wisconsin-Milwaukee. Since 1987, he mostly sits and read everything he can and then designs fascinating presentations that leave people either engaged in vivid conversations or quietly reflecting on what it all means. He gives talks about 50 times a year and really wishes he would write more. He is the author of two books so far.
Dave is on the board of the American Institute of Architects and on the board of the American Chesterton Society. In December 2012, he received an AIAS Presidential Citation from the American Institute of Architecture Students. Past activities include: Wisconsin Small Business Development Center Advisory Council, AIA-WI Board, Future Milwaukee Advisory Board, Community Advisory Board for NPR station WUWM, board member of eInnovate, member of the downtown Rotary Club of Milwaukee, and chairman of the Goals for Greater Milwaukee 2000 Education Committee.
Speech Topics
---
An Owner's Guide to the Future
An Owner's Guide to the Future is entertaining and thought-provoking, and is typically positioned to launch the conference by getting people laughing, thinking and talking. Do we really want vacuum cleaners that can argue with us? Will the automation of health care lead to the automation of caring? And, how come teenagers can pay attention to ten things at once and still be, like, bored? David Zach asks some funny questions. In his thought-provoking tour of modern times he'll offer some useful answers that will get people talking. With a friendly style and a little bit of midwestern charm, he'll help you face the future with a solid sense of hope and inspiration.
As one of the very few professionally trained futurists on the planet, David Zach blends the funny with the profound in this surprisingly practical keynote to help you decide what really matters. You'll rethink the balance between change and tradition – and the need to hold on to that which shouldn't change. At the end, you'll find yourself either thoughtfully quiet or engaged in some of the best conversations you've ever had at a meeting. Dave may not be the futurist.
Fads, Trends & Principles
Play with Fads, Work with Trends, Live by Principles. That's what we should do, but unfortunately mostly we are Seduced by Fads, Ignorant of Trends and in Denial of Principles. In an age of information, which is really an age of communication, which is really an age of attention – meaning that what you pay attention to becomes what you are. In this presentation (which can also be presented as a three hour interactive keynote or as a follow-up workshop) you'll learn the strategic and tactical differences between Fads, Trends and Principles and how to protect and direct that most valuable of resources – your attention. For more on this notion, check out these handouts Fads Trends & Principles and this Fads, Trends & Principles bookmark.
Designs on the Future
The future depends upon design and architects need to understand how important their role is in building that future. Some have said that the future requires us to be open to change, but futurist David Zach disagrees. It's not that simple. In order to build a good future we must know how to hold on to the best of the past and make sure we learn from the lessons of history.
It should be clear that not all change is progress and not all tradition is outdated. Survival and progress depend on our ability to choose between change and tradition. Again, architects are some of the best prepared to make those choices clear for others. It's time that they regained leadership positions for shaping the choices we must make.
This presentation is a fascinating (and rather irreverent) look at the trends and traditions affecting design and the roles that architects, designers and planners can have over the next ten years.
Strategic Futures
Strategic Futures is packed with more practical content for those needing to think about the bottom line as well as the horizon. Whether you're an owner, a free agent, a manager or just somebody who likes to think a lot about the future, you need to pay attention to both the bottom line and the horizon. With a focus on the practical and the possible, this is a down-to-earth look at key strategic trends: from the rise of intelligent money to the fall of national borders, from virtual workplaces to virtually unlimited information, and even from the automation of health care to the automation of things you've never believed possible. If you need to do some deep thinking about choices, forecasts and how you'll navigate tomorrow, let internationally renowned futurist David Zach be your guide.
Books
---
Related Speakers View all
---
Watts Wacker

Futurist & Commentator

Michael Rogers

MSNBC's 'The Practical Futurist' & Technology Expert

Dr. Anthony Fauci

Director of the National Institute of Allergy and In...

Clay Shirky

Expert on New Technology & Social Media, & How They ...

Jim Carroll

One of the World's Leading Global Futurists, Trends ...

Dan Ariely

Behavioral Economist; Professor at Duke University; ...

Gerald Chertavian

Founder & CEO, Year Up

John Legend

EGOT Winning Musician, Producer & Philantropist

Jeremy Rifkin

Leading Global Technologist, Futurist, Authority on ...

Dr. Michio Kaku

World-Renowned Futurist & Theoretical Physicist

Daniel Burrus

Technology Futurist, Business Strategist & Hall of F...

Shashi Tharoor

Diplomat & Author; Former United Nations Under-Secre...

Peter Thiel

Former CEO and Co-founder of PayPal; Technology Entr...

Gerry Adams

President, Sinn Fein

Graham Hill

Founder of Life Edited & TreeHugger.com

Steve Wozniak

Co-Founder of Apple Computer, Inc.

Calvin Trillin

Author, Columnist, Humorist & Political Satirist

Mitt Romney

Former Governor of Massachusetts, 2012 Republican Pr...

Ray Kurzweil

Chairman of Kurzweil Technologies; Inventor; Futurist

Ian Jukes

Educator & Technology Expert; Co-Founder of Infosavvy
More like David