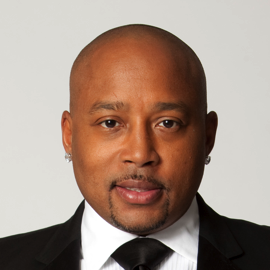 Daymond John
"Shark Tank" Investor; Founder & CEO of FUBU; Presidential Ambassador for Global Entrepreneurship
An entrepreneur in every sense of the word, Daymond John has come a long way from taking out a $100,000 mortgage on his mother's house and moving his operation into the basement. John is CEO and Founder of FUBU, a much-celebrated global lifestyle brand, and a pioneer in the fashion industry with over $6 billion in product sales. He is an award-winning entrepreneur, and he has received over 35 awards including the Brandweek Marketer of the Year, Advertising Age Marketing 1000 Award for Outstanding Ad Campaign, Ernst & Young's New York Entrepreneur of the Year Award and, most recently, was named #4 on LinkedIn's Top 20 Voices, a list of the top influencers in the U.S. worth following to get inspired and stay informed!
His marketing strategies and ability to build successful brands has made him a highly influential consultant and motivational speaker today. His marketing firm The Shark Group offers advice on how to effectively communicate to consumers through innovative means and connects brands with the world's top celebrities for everything from endorsements to product extensions. John is also an author of four best-selling books including his New York Times best-selling books, The Power of Broke (2016) and Rise and Grind (2018). In March 2020, John will release his sixth book, Powershift, that walks through his tried and true process of how to transform any situation, close any deal and achieve any outcome through his own experience and vast network of industry leaders.
Finally, he's celebrating his 11th season on ABC's hit business show Shark Tank by acclaimed producer Mark Burnett. It has now gone on to win four Emmys and millions of weekly viewers tune into the show as John demonstrates his marketing prowess and entrepreneurial insights.
Speech Topics
---
The Brand Within: Branding Yourself from Birth to the Boardroom
How to Negotiate: Lessons from an Entrepreneurial Icon
Negotiating for Women: Going Toe to Toe with the Big Boys
Take the Plunge: You Can Swim with the Sharks
Diversity: A Good Business Practice
The world we live in is filled with more diversity than ever before. In this speech, Daymond John suggests that business owners should create teams with members from a variety of backgrounds in order to gain competitive advantage. FUBU once sold in 62 countries and has always been filled with diverse employees, so John knows diversity better than anyone out there. He discusses diversity from a social standpoint as well as from a business perspective, in addition to sharing secrets on the importance of diversity in hiring employees, choosing vendors, manufacturers, partners and teammates.
MOST REQUESTED SPEAKING TOPICS OUTLINE
Each of, The Shark, Daymond John's keynotes are customized to fit your specific objectives. They are informative yet entertaining and involve: lots of humor, high-energy and audience-speaker interaction. Daymond uses compelling stories from his rags-to-riches journey to illustrate his points and always leaves audience members with practical, tangible and invaluable tools to incorporate into their professional as well as personal endeavors. With over twenty years of phenomenally successful business experience, Daymond has the ability speak on wide-range of business related matters; however, his three most requested topics are:
GOALS/MOTIVATION
In this keynote, presented in his charismatic style, The Shark, Daymond John, takes audience members on an inspiring, emotional rollercoaster ride. They'll hear, first-hand, how a man, with no formal business training whatsoever, went from driving cabs and waiting tables at Red Lobster to creating a global fashion empire with retail sales exceeding four billion dollars to date, and a starring role on ABC's hit reality business show, Shark Tank. Daymond entertains and awes audience members with true-life tales of his incredible successes and numerous failures. Equally important, however, he motivates, inspires and teaches them how to set and go after their own goals with newfound focus and determination.
Audience members will be galvanized as they realize they have been setting goals for themselves all of their lives—whether the y realized it or not! What's more, to their surprise, many attendees will learn that the goals they have been setting have been self-destructive.
Unlike some "motivational speakers," rather than spitting-out tiresome "I can make it, so can you" clichés, Daymond shares the exact goal-setting strategies that he attributes to his success and teaches audience members how to incorporate them into their endeavors. This keynote will challenge attendees to exercise their brains in a way that cultivates a positive, goal-setting mindset.
BRANDING/MARKETING
When William Shakespeare said, "All the world's a stage", he was indirectly talking about branding! This informative keynote is like nothing else on the market. Sure, there are other speakers that may explain how to market and brand a product, but how many explain, step-by-step, how to brand yourself and transfer that power into your job, company or product? Did you realize that you're a brand? According to The Shark, you were branded the day you were born and continuously every second since!
In this keynote, The Shark, Daymond John, gives audience members in-depth insight into how your personal brand affects all aspects of your life. Not only will attendees learn the importance of branding, Daymond will reveal some of the tricks that helped him expand his brand into dozens of countries around the globe. The techniques shared can be applied to personal branding as well as to the branding of products and concepts.
Corporations love employees with a strong sense of branding because it inspires out-of-the-box thinking, creating an infectious energy that flows throughout the work environment.
It's no secret that the world has gotten smaller. Facebook, MySpace, Twitter, Foursquare, and dozens of other social websites have increased the desire for people to be noticed as a brand, let The Shark, Daymond John, show you how.
NEGOTIATION STRATEGIES FOR WOMEN: You have more power than you may think!
Although The Shark, Daymond John, is one of the most recognized negotiators on network television, and has conducted hundreds of negotiations with both men and women throughout his twenty years in business, he never planned on speaking on negotiation strategies for women; that is, until California First Lady, Maria Shriver, called upon him to speak on this very topic for her annual Women's Conference.
Feeling a bit out of his realm and comfort zone, Daymond decided to immerse himself in research to find out what, if any, differences existed between how men and women tend to negotiate with each other. In this keynote, Daymond shares what he discovered in his research and personal experiences over the years. His findings will have audience members sitting up and taking notes! According to The Shark, not only do women have several distinct advantages over men when negotiating—in both professional and personal settings, but quite a few disadvantages as well.
Daymond will share specific techniques on how to respond to today's negotiation challenges. Not only will this keynote leave every attendee feeling empowered, more confident and ready to tackle the world, they will have lots of fun and laughs in the process.
Daymond John's 5 Shark Points: Fundamentals for success in business and life.
Daymond John has been a phenomenally successful business person for over 25 years. Along his entrepreneurial journey, through his many successes as well as failures, he has learned a few things about getting the best out of business and life. He believes the keys to his success include establishing the right mindset and following a few fundamental principles, which he calls his five "S.H.A.R.K points." Get ready! Daymond John is going to share his unique goal-setting and achievement strategies, which will empower audience members to make positive changes in every aspect of their lives.
Related Speakers View all
---
Randi Zuckerberg

CEO & Founder of Zuckerberg Media; Bestselling Autho...

Marc Randolph

Entrepreneur, Netflix Co-Founder, National Best-Sell...

Mitch Lowe

Former Co-founding Executive of Netflix; Former Pres...

Peter Diamandis

Founder & Executive Chairman of the XPRIZE Foundatio...

Barbara Corcoran

Real Estate Entrepreneur, Angel Investor, Author & C...

Josh Linkner

Five-Time Tech Entrepreneur; Hyper-Growth CEO; NY Ti...

Uri Levine

Entrepreneur & Co-Founder of Waze

Guy Kawasaki

Chief Evangelist of Canva & Executive Fellow of the ...

Magic Johnson

Basketball Hall of Famer, Entrepreneur, Philanthropi...

Dr. Michio Kaku

World-Renowned Futurist & Theoretical Physicist

Gary Vaynerchuk

Co-Founder & CEO of VaynerMedia

Chip Conley

Strategic Advisor for Hospitality & Leadership at Ai...

Omar Johnson

Former CMO at Beats by Dre & VP at Apple; Founder of...

Shawn Achor

Harvard Professor, Researcher, Positive Psychology E...

Seth Godin

Business & Marketing Expert & New York Times Bestsel...

Iqram Magdon-Ismail

Co-Founder of Venmo

Sallie Krawcheck

Founder & CEO of Ellevest; Author of "Own It: The Po...

Chris Gardner

CEO, HappYness; Entrepreneur; International Best-Sel...

J.R. Martinez

Actor, Best-Selling Author, Motivational Speaker, Ad...

R "Ray" Wang

Founder, Chairman & Principal Analyst at Constellati...
More like Daymond