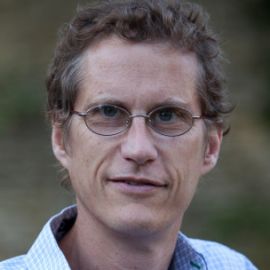 An award-winning author of ten books and dozens of articles in national magazines, Dean King has a passion for historical adventure stories. His earliest works were the best-selling companion books to Patrick O'Brian's epic Aubrey-Maturin novel series A Sea of Words, Harbors & High Seas, and Every Man Will Do His Duty. He followed these up with a critically acclaimed biography of the eccentric author Patrick O'Brian: A Life Revealed, which was named a big book of the year by The Daily Telegraph, where it was serialized in four full pages.
King followed this biography with the national bestseller Skeletons on the Zahara (Little, Brown, 2004), which tells the true story of the shipwreck of a Connecticut merchant brig Commerce on the west coast of Africa in 1815. The crew was enslaved on the desert by nomadic Arabs and had to travel 800 miles across the Sahara to reach freedom. Based on the memoirs of Captain James Riley and sailor Archibald Robbins, which King discovered in the New York Yacht Club library, and translated into ten languages, Skeletons was a multiple Book of the Year selection, the basis of a feature in National Geographic Adventure and a two-hour special documentary on the History Chanel. It is currently being developed as a feature film in London.
King's latest work, Unbound: A True Story of War, Love, and Survival, about the 30 courageous women who walked 4,000 miles across China with Mao Zedong, in 1934, was published in the spring of 2010. While crossing eleven provinces, the 30 women forded dozens of raging rivers, scaled ice-covered peaks on the Tibetan Plateau, and survived ambushes, bombings, severe hunger and thirst, typhoid fever, and the births of half a dozen children. Their epic march helped reshape China forever. King's account of his research trek in northwest Sichuan Province is featured in the April edition of Outside and translated into Mandarin, is the cover story of the May edition of Outside China. Of Unbound, Mary Baldwin College professor of Asian Studies Daniel A. Metraux wrote: "King, more than any other writer, recaptures the drama and flavor of this momentous time in Chinese history...Unbound is a must read for any student of modern Chinese history and ranks with Red Star Over China as one of the classic narratives of the early days of the CCP."
King is a past director of book publishing at National Review, an original contributing editor to Men's Journal, and the founder of Bubba Magazine. He has contributed stories to Book Marks, Esquire, Garden & Gun, Granta, Men's Journal, National Geographic Adventure, New York, The New York Times, Outside, Travel Leisure, and The Daily Telegraph.
From 1997-2000, King edited the "Heart of Oak Sea Classics" series published by Henry Holt, which included fiction and non-fiction books about the Age of Fighting Sail, with new introductions and annotation. The series included such authors as Joseph Conrad, James Fenimore Cooper, Frederick Marryat, and James Norman Hall. Captain Richard Bailey of HMS Rose once noted that: "Like a great explorer of nautical literary archeology, King leads us on a journey of rediscovery into the past – back to a time before O'Brian, before Forester – to the founding authors of a great literary tradition."
King is a nationally known speaker on his books, writing, and sea literature.
Videos
---
Related Speakers View all
---
Ken Burns

Historian & Award-Winning Filmmaker

Gilbert King

Pulitzer Prize-Winning Author, Known for "Devil in t...

John Ferling

Historian and Author; Specialized in the American Re...

Rinker Buck

Award-Winning Author; Known for "Flight of Passage"

Richard Brookhiser

Journalist, Biographer, Historian & Senior Editor at...

Bill O'Reilly

Host of "The O'Reilly Factor," Best-Selling Author &...

John Heilemann

Co-Host, "With All Due Respect;" Managing Editor, Bl...

Evan Thomas

Best-selling Author, Historian & Journalist

Dan Fagin

Pulitzer Prize-Winning Journalist, Known for "Toms R...

Dolores Barclay

Author, Professor at Columbia School of Journalism &...

Linda Gordon

Award Winning Author, Historian & Feminist

Ron Powers

Pulitzer Prize-Winning Journalist & Author

Michiko Kakutani

Bestselling Author & Former Chief Book Critic at The...

Mary Stockwell

Author and Historian

Diane Guerrero

Immigration Reform Activist & Actress Known for "Ora...

Robert K. Massie

Pulitzer Prize-Winning Writer & Historian

Laurence Bergreen

Award-winning Biographer, Historian and Author of "C...

Anna Holmes

Founder and Editor of Online Women's Magazine, Jezeb...

Bob Woodward

Legendary Pulitzer Prize-winning Journalist/Author a...

Annette Gordon-Reed

Professor of American Legal History at Harvard Law S...
More like Dean