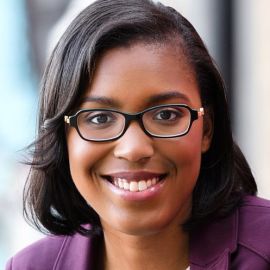 DeAndrea Salvador
Environmental Justice Advocate
DeAndrea Newman Salvador is an energy expert with a background in economics, an entrepreneur and a founder of two groundbreaking organizations, Renewable Energy Transition Initiative (RETI) and JouleScout. She works to create seamless integration of low-income families into a world of energy abundance.
Witnessing neighbors in her home state of North Carolina struggle to keep up with energy expenses, Salvador took action in 2013 and founded RETI, a nonprofit focused on helping low-income families sustainably reduce energy costs and gain access to cutting-edge technology. Through RETI, Salvador is partnering with Duke Energy (one of the nation's largest utilities) to launch a low- to moderate-income shared solar program in South Carolina. RETI also worked with the City of Charlotte to create a Smart Home Kick Start for the city's residents.
Furthering her mission to create energy equity in the new energy economy, Salvador founded JouleScout in 2018. JouleScout is a social enterprise focused on helping energy providers incentivize customers to use less energy at key times without sacrificing comfort, thereby ensuring grid reliability, fewer blackouts and more renewables on the grid with a cost savings to customers.
As a social entrepreneur and advocate, Salvador has been featured by The Atlantic, Fast Company, the BBC, Canadian Broadcasting Corporation, Utility Drive and the Charlotte Observer. Her own articles are published in Pacific Standard Magazine, GOOD, The Development Set, BRIGHT Magazine and on TheWeek.com.
Salvador is a TED2018 Fellow, a recipient of the University of North Carolina at Charlotte Young Alumna of the Year Award and was recognized as one of the Charlotte Mecklenburg Black Chamber of Commerce's 30 under 30. She is a member of the Mecklenburg County Air Quality Commission and sits on the Board of Directors for Youth Empowered Solutions (YES!).
Related Speakers View all
---
Sheila Watt-Cloutier

Environmental, Cultural & Human Rights Advocate, For...

Rick Ridgeway

Environmentalist, Mountaineer, Expedition Author, VP...

Xiuhtezcatl Martinez

Indigenous Climate Activist, Hip-Hop Artist, Author ...

Majora Carter

Real Estate Developer, Peabody Award-Winning Broadca...

Jamie Margolin

Climate Change Activist; Author; Founder & Co-Execut...

Livia Firth

Co-Founder & Creative Director of Eco-Age

Dr. Sylvia Hood Washington

Chief Environmental Research Scientist at Environmen...

Carl Pope

Senior Adviser to UN Envoy for Cities and Climate; F...

Alexandra Cousteau

Environmental Activist, Storyteller & Ocean Advocate

Adrian Grenier

Actor Known for HBO's "Entourage"; Environmental Act...

Sylvia Earle

National Geographic Society Explorer-in-Residence & ...

Ed Begley Jr.

Environmental Activist & Emmy Award-Nominated Actor

Martin Keller

Director of National Renewable Energy Laboratory & P...

Bob Kopp

Climate Scientist, Geobiologist & Climate Policy Sch...

Kartik Chandran

Environmental Engineer & Associate Professor at Colu...

Michael Shellenberger

Founder & President of Environmental Progress; Exper...

Louie Psihoyos

Photographer & Documentary Film Director; Known for ...

Erin Brockovich

Consumer Advocate, Author, TV Host & Environmental A...

Ian Bowles

Environmentalist & Energy Expert; Co-Founder of Wind...

Gary Bencheghib

Filmmaker & Founder of "Make a Change World"
More like DeAndrea