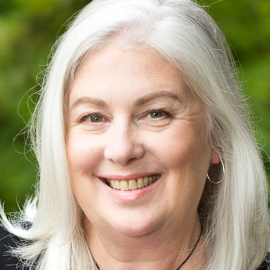 Deborah Ivanoff, The BEING Coach, has an upbeat, engaging style that groups love. Known for delivering powerful tools in fun interactive ways that are fresh each time because she involves the audience in the presentation itself, Deborah tailors each presentation to meet your needs.
Author, Master Life-Work Coach, Certified Mediator, Facilitator, Trainer; Deborah has worked with thousands of professionals, corporate groups, realtors and entrepreneurs from all over the world to teach them how to overcome emotional overwhelm and get back into productive action.
She is the author of the books, Manifest At Light Speed: An Introduction to Self-Coaching and How To Make More Good Stuff Happen, a Law of Attraction workbook for tweens and their parents, that she wrote with her daughter, Abigail.
Deborah has a personal story that illustrates that anyone can challenge the "impossible" and create a life according to their own design when they learn the skills to manage and use their emotions rather than avoid them.
Videos
---
Speech Topics
---
3 Secrets to Managing Your Time Effectively, A Unique Approach
Worried about getting it all done--or feeling frustrated by too much to do? Learn a unique approach to mastering your To Do list!
This presentation will help you avoid time wasters and get more of what you want done.
Here's what you'll be taking away from this event:
• The #1 mistake people make that costs them time and creates frustration • 3 secrets to get regain control of your time and accomplish more • and so much more!
Everyday Courage At Work and Home
When you think of heroic acts of courage, you may imagine men leaping out of helicopters to rescue children in the raging sea, Wonder Woman dodging bullets with her cuffs of steel, or a speaker who moved an entire nation with new ideas and words of inspiration.
So then, what is Everyday Courage?
That's the very topic explored in an uplifting, interactive and inspiring facilitation that relies on the experiences of members of the group to shine the light on our daily bravery.
"Fear of Rejection" Cure
What's the number one "fear" professionals don't want to talk about, all the while wanting to increase their numbers of sales?
That's right, the fear of rejection!
We want so much to feel good about our interactions with others that it can literally keep us from the very success we seek.
In this powerful, interactive presentation, we bravely face our fears, together and explore what's really behind our fear of interacting with others in the professional and personal arenas.
But we don't stop with simple understanding. Together we construct a 3 step plan to conquer your fears and reach the other side where there is more connection, safety, and even enjoyment no matter your situation or profession.
Overcoming Emotional Sabotage
You can have every single advantage- the best vision, expert talent, the most resources, the perfect plan, the best team (or partner) and more- but if challenging emotions are not addressed, you will not experience lasting success.
My mission is to help you solve the #1 problem that keeps you stuck, overwhelmed, and operating at a fraction of your true potential. It's not a single strategy, tactic, fad technique or complex process.
It's simple (but profound). I help you stop avoiding "negative" emotions and harness the true power of yourself and the people around you.
Solving the #1 problem can create big results- no matter how long you've felt stuck or stressed.
Related Speakers View all
---
Scott Shellstrom

Creativity Innovator, Award Winning Creative Directo...

Gbadebo Odularu

PhD Economist keen on deploying data science to solv...

Somto Okeke Charles

Somto Okeke Charles is a vibrant & innovative young ...

Monica Phromsavanh

CEO & Co-Founder of ModaBox

Steve Gutzler

Steve Gutzler is one of the nation's premier thought...

Harry G. Broadman

Dispelling Myths About Emerging Markets Business Gro...

Danny Mekić

Technology Expert, and "most successful Dutch young ...

Stephen Birchak

One of the top speakers in the nation for how to use...

Bill Gates

Co-Founder of Microsoft; Co-Chair of the Bill & Meli...

Bill Rancic

"The Apprentice" Winner; Entrepreneur; Star of "Giul...

Clay Shirky

Expert on New Technology & Social Media, & How They ...

R "Ray" Wang

Founder, Chairman & Principal Analyst at Constellati...

Jeff Jarvis

Leader in the Development of Online News & Blogging;...

Igor Beuker

World Authority on Marketing and Media

Ken Jennings

Jeopardy! "Greatest Of All Time" Winner; Longest Jeo...

Ray Kurzweil

Chairman of Kurzweil Technologies; Inventor; Futurist

Dr. Michio Kaku

World-Renowned Futurist & Theoretical Physicist

SJ Murray

Emmy-Nominated Writer, Producer & Story Designer

Jordan Goldman

Named "One of the top young entrepreneurs in America...

Afdhel Aziz

Leading Expert on Brand Purpose & Marketing Innovati...
More like Deborah