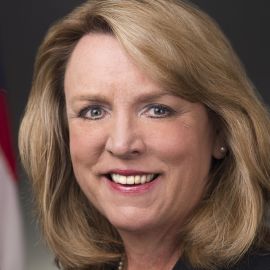 Deborah Lee James
23rd Secretary of the US Air Force, Business Leader & Author of "Aim High Chart Your Course and Find Success"
From December 2013 through January 2017, Deborah served as the 23rd Secretary of the United States Air Force with responsibility for 660,000 military and civilian personnel and a budget of nearly $140 billion. She was the second woman to ever lead a military service in the United States. Prior to this role, she served as President of SAIC's Technical and Engineering sector, a $2 billion, 8,700-person enterprise. Earlier in her career, Deborah held other P&L positions, and worked in the legislative branch of government and the Department of Defense.
Deborah has deep expertise in strategic planning, risk management, public policy, cyber security, space, logistics and innovation. Deborah is an accomplished speaker on business and government topics including issues in national security and world affairs, politics in Washington, business transformation leadership, mergers and acquisitions, cost reduction strategies, and diversity and inclusion. Deborah is the author of the new book Aim High: Chart Your Course and Find Success. And she periodically appears on MSNBC, CBS, and other national news programs.
Speech Topics
---
Thriving in Dysfunction: Lessons Learned from Leadership and Problem Solving
Deborah will explore how she managed to convert negative experiences from her personal life into positive lessons which enabled her to get along, get strong, grow into achievement and excellence and, ultimately, thrive as a leader in government, business, as a mother, and as a wife at home. Deborah shares both her struggles and their outcomes, and the problem-solving strategies that she developed along the way that she successfully applied to pressures, threats and challenges that at first seemed daunting and impassable. Hear about Deborah's success in rising up through the ranks of male-dominated industries and institutions so that her life could be lived to its fullest and happiest, and on her own terms. Her problem solving approach – which she outlines with personal stories from business and government – includes: investigate, communicate, activate, and follow up.
Commentary on Topical National Defense and Foreign Policy Issues
As Secretary of the Air Force, Deborah was charged with talent management; readiness and training; technology and modernization; and making her organizations as efficient as possible. She also visited more than 40 partner nations during her most recent tenure in government. She offers up-to- the-minute commentary on the Washington budget scene and topical issues in national security and foreign policy. Deborah talks about controversial topics including: the readiness of today's armed forces; sequestration; cyber security; space; opening combat jobs to women in the military; making the acquisition process more efficient; and countering the threats posed by ISIS and Russia.
Diversity and Inclusion
A key part of talent management in today's business, academic and business environment is improving policies for diversity and inclusion. Why? All organizations are in a war for talent and need to recruit from the widest pool possible of qualified individuals to join their ranks. All organizations also seek innovation, which in large part stems from diversity of thought. Deborah outlines the business case for diversity and inclusion and offers examples and implementation advice from both her industry and government experience. Deborah can also offer personal experiences on how to achieve a successful work/life balance and how a woman can successfully navigate in a male dominated environment.
Changing Cyber Culture
Everyone says they want to go digital, so why does it still seem as if Business people and IT people do not understand each other's goals and needs? We used to call it a technology gap, but maybe the disconnect is much wider than that. Could it be that Business folks are from Mars and IT folks are from Venus? Deborah explains the importance of changing cyber culture as part of the digital revolution. Most importantly, she knows what you and your organization must do to create that change.
?
A Renaissance in Space
Access to Space is crucial for the way we live, work, and play in the 21st Century. From the 1960's and the Apollo program, to the present day, Space has undergone a transformation of significant proportions. Deborah discusses today's space renaissance from a commercial to a government perspective and offers thoughts about how companies -- both new and existing -- can become more involved with the Space revolution. She also offers commentary on topical issues in national security, including organizational matters, selling to the government, funding for Space programs, and becoming more resilient in a high-threat environment.
Books
---
Related Speakers View all
---
Leanne Caret

President and CEO of Defense, Space & Security; Exec...

Becky Halstead

First Female Graduate of West Point to Reach General

Dr. Jackie Freiberg

Corporate Culture & Leadership Strategist, Best-Sell...

Stephanie Chung

President of Jetsuite, Inc.

Jodi Bondi Norgaard

Founder of Dream Big Toy Company & Creator of Go! Go...

Marie Forleo

Life Coach, Motivational Speaker, Author and Web TV ...

Kristie Kennedy

Women's Worth & Wellness Expert, TEDx Audacious Lead...

Caryn Seidman Becker

Chairman & CEO of Clear

Polly LaBarre

Founding Member of the Fast Company Magazine, Co-Fou...

Alyse Nelson

Co-founder, President & CEO Vital Voices Global Part...

Nicole Yeary

Founder & CEO of Ms.Tech

Carey Lohrenz

First Female F-14 Fighter Pilot in the U.S. Navy, T...

Libby Gill

Leadership Expert, Executive Coach & Award-Winning A...

Barbara Corcoran

Real Estate Entrepreneur & Mogul, Angel Investor, Au...

Elatia Abate

Human Capital Expert, Thought Leader on The Future o...

Patricia Poppe

President & CEO of CMS Energy

Nuala O'Connor

President & CEO of the Center for Democracy and Tech...

Gillian Tans

Chairwoman & Former CEO of Booking.com

Ann Lewnes

Executive Vice President and CMO of Adobe Systems

Allyson Kapin

Founder of Women Who Tech; Founder of web agency Rad...
More like Deborah