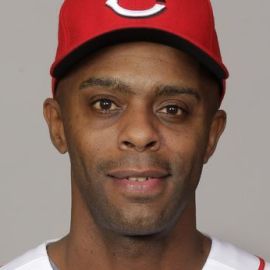 Delino Lamont DeShields, also nicknamed "Bop", is an American former professional baseball second baseman. He played for thirteen seasons in Major League Baseball (MLB) for the Montreal Expos, Los Angeles Dodgers, St. Louis Cardinals, Baltimore Orioles, and Chicago Cubs between 1990 and 2002. Since 2014, he has managed the Louisville Bats in the Cincinnati Reds organization. His son Delino DeShields Jr. has played for the Texas Rangers since 2015.
DeShields became the regular second baseman for the Montreal Expos in 1990, finishing in second place for the NL Rookie of the Year award. He suffered from a sophomore slump in 1991, but went on to post his two best years in 1992 and 1993, hitting .294 and averaging 45 stolen bases.
On November 19, 1993, DeShields was traded to the Los Angeles Dodgers for then-prospect Pedro Martínez. In retrospect, this is considered one of the worst trades in Dodgers history. DeShields hit a mediocre .241 during his three years in Los Angeles, while Martinez went on to win three Cy Young Awards and established himself amongst the greatest pitchers of all time.
In 1996, DeShields signed as a free agent with the St. Louis Cardinals, and later played with the Baltimore Orioles and Chicago Cubs. In 2001, he was the last out in Hideo Nomo's no-hitter against the Baltimore Orioles.
Videos
---