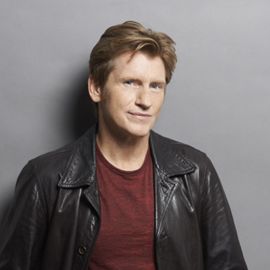 Denis Leary's short comedy spots on MTV made him famous, and he followed these with success in films such as "The Ref," "True Crime" and the animated "Ice Age." Leary's TV drama, "Rescue Me" which he created, produces, and stars in, brought him acclaim in the drama realm, and his Fund for New York's Bravest is an inspirational charity that helps the families of firefighters who died on 9/11.
It was Leary's short comedy spots on the MTV cable network that made him nationally known. These clips featured him launching into a quick verbal assault on popular figures, such as the rock group R.E.M., and other topics, including racism. And usually, Leary delivered these clever quips while holding his trademark cigarette. Concerned about typecasting, he took a leading role in "The Ref." In the film, he played a burglar who takes a bickering married couple hostage, gets ensnared in their family squabbles and ends up acting as a peacemaker for the dysfunctional family.
Leary made a splash on the small screen with the hit cable series, "Rescue Me." Although his earlier attempt at starring in a television series, "The Job" did not last long, his second effort struck a cord with viewers and critics alike. "Rescue Me" which debuted in 2004, followed the life and work of a crew of firefighters in uptown Manhattan after the September 11th tragedy.
Leary played Tommy Gavin, a firefighter haunted by the death of his cousin and plagued many personal problems. He understood his character's loss all too well, having lost his own cousin and a childhood friend in a 1999 blaze in Worcester, Massachusetts. While the show had comic elements, it was grounded in the gritty reality of the dangers and hazards firefighters must face. In addition to being its star, Leary is also was an executive producer and writer for the series. He was nominated for three Emmy Awards—for Outstanding Actor in Drama Series in 2006 and in 2007 and for Outstanding Writing for a Drama Series in 2005 along with friend and frequent collaborator Peter Tolan.
Since "Rescue Me's" conclusion in 2011 Leary has kept busy with behind the scenes work in the series "Sirens" and in front of the camera in the recent "Spider-Man" relaunch.
In addition to supporting the Cam Neely Foundation, Leary has established his own organization to help others. After the death of his cousin and his friend in 1999, he established the Leary Firefighters Foundation, which has supported the families of the firefighters that died in that blaze—known as the "Worcester 6"—and supplied new equipment for that fire department as well as many other departments. To raise money, Leary hosts an annual ice hockey event that pits celebrities against legendary hockey stars.
After the September 11th tragedy, the foundation created the Fund for New York's Bravest to help the families of firefighters who died in the line of duty that day. The fund also provided money and support for equipment and training before it closed in 2003.
Leary lives in Connecticut with his wife and their two children, Jack and Devin.
Related Speakers View all
---
John Leguizamo

Colombian Actor & Comedian

Spike Lee

Academy Award-Winning Writer, Producer, Actor & Dire...

Ray Romano

Comedian & Actor, Best-Known for "Everybody Loves Ra...

Louis C.K.

Comedian, Writer, Actor, Producer and Director

Josh Peck

Actor & Social Media Influencer

Dr. Mehmet Oz

Cardiothoracic Surgeon; Host of "The Dr. Oz Show;" C...

Steve Martin

Iconic Actor, Comedian, Author, Playwright & Musician

Al Pacino

Award-Winning Actor

Ben Stiller

Actor & Comedian

Zach Galifianakis

Comedian & Actor Best Known for "The Hangover" & "Bi...

Richard Dreyfuss

Academy Award-Winning Actor

John Cleese

British Comedic Actor, Screenwriter & Producer

Nick Cannon

TV Personality, Former Host of "Wild N Out" & "Ameri...

Dee Snider

Daniel "Dee" Snider is an American singer-songwriter...

Max Greenfield

Actor Known For "New Girl"

Wyatt Cenac

American stand-up Comedian and Actor; Former Corresp...

Kenan Thompson

Prime Time Emmy Award-Nominated Actor; Former "Satur...

Jon Stewart

Talk Show Host, Comedian & Producer

Rickey Smiley

Stand-Up Comedian, TV Host, Actor & Radio Personalit...

Chris Rock

Award-Winning Comedian, Actor, Writer, Producer & Di...
More like Denis