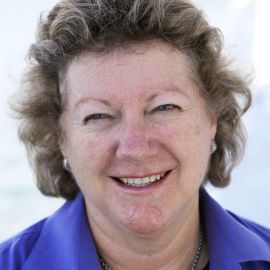 Dr. Denise Herzing, Research Director of the Wild Dolphin Project, has completed 29 years of her long-term study of the Atlantic spotted dolphins inhabiting Bahamian waters. She received her B.S. in marine zoology in 1979; her M.A. in behavioral biology in 1988; and her Ph.D. in behavioral biology/environmental studies in 1993. She is an affiliate assistant professor in biological sciences at Florida Atlantic University, Boca Raton, Florida. In 2008 Dr. Herzing received a Guggenheim Fellowship. She is also a fellow with the Explorers Club, a scientific adviser for the Lifeboat Foundation and the American Cetacean Society and on the board of Schoolyard Films. In addition to many scientific articles, she is the author of the new book "Dolphin Diaries: My 25 years with Spotted Dolphins in the Bahamas" and "The Wild Dolphin Project."
Dr. Herzing has authored and co-authored many papers in the fields of whale biology, animal communication and human consciousness. Coverage of her work with the spotted dolphins has appeared in National Geographic, BBC Wildlife, Ocean Realm and Sonar magazines. Her work has been featured on Nature, Discovery Channel, PBS, ABC network television, BBC in England and NHK in Japan. In 2013, Dr. Herzing was a speaker at TED2013 in Long Beach California.
Her fields of interest are animal cognition, behavior and communication of cetaceans. Dr. Herzing has given presentations and lectures to the following research, education and conservation organizations: Society for Marine Mammalogy, European Cetacean Society, International Fund for Animal Welfare, the Explorers Club, TED2013, Boston Museum of Science, American Cetacean Society and others.
Videos
---
Speech Topics
---
Dolphin Life in the Wild
What is it like growing up as a dolphin in the wild? Dolphins have surprisingly long lives, strong friendships, and complex communication. It's no wonder people find these animals both intriguing and compelling. She describes her long term and ongoing field work in the Bahamas with a resident community of free-ranging spotted dolphins. Her talk includes detailed examples of the lives of dolphins in the wild, with photographs, sound and underwater video, and she describe the implication for humans and our planet.
Dolphin Communication and Behavior
Dolphins use body language as well as sound to communicate to each other. Some of their sounds are audible to humans while other sounds are ultrasonic in nature. Through the use of specialized sound equipment we can "see" what dolphins are saying to each other and begin to decipher their culture and communication. Her talk includes special ways to visualize sound, audio examples, and underwater behavioral examples that are correlated with sound. She also talks about what work is left to do with dolphin communication and how we might "crack the code" of their language.
Field Work with Whales and Dolphins around the World
There are over 70 species of cetaceans, whales and dolphins, around the world. Some are cosmopolitan and others live in remote parts of the world. Researchers use various techniques to work with wild marine mammals, including photography, video, GIS, tagging and telemetry. She will describe and explore these techniques and give various examples around the world of their application.
Depending on the audience, these topics can be combined if needed to suite the interest level.
News
---
You Had Me at "Cybernetic Dolphins"
One of the developers of Google Glass—Thad Starner—is working on a project together with dolphin scientist Denise Herzing of the Wild Dolphin Project.