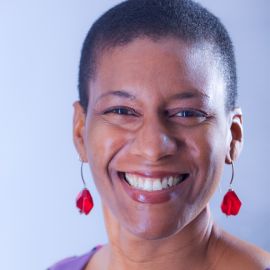 Denise Jacobs a Speaker + Author + Creativity Evangelist who increases employee productivity and engagement through evangelizing leading-edge techniques for busting through creative blocks in order help individuals to be their brilliance, cultivate collaboration, and develop leadership skills.
Through speaking, writing, training, and her consulting company, The Creative Dose, Denise helps companies to create real-world results where individuals and teams work better, produce more, and skyrocket their company's success.
Keynote Speaker Denise is a passionate, high-energy, thought-provoking and sought-after international keynote speaker who helps technologists, developers, designers, entrepreneurs, startup founders, C-Suite executives, marketers, and communicators bring the power of creativity to teams and individuals – even those in industries that aren't necessarily thought of as creative. Denise's keynotes and workshops give A Creative Dose™: a booster shot of inspiration and an injection of fresh ways to approach creativity and bust through creative blocks so that people can start doing their best work.
Denise's high-energy, tailored opening keynotes set the stage for an event, creating both context and space for inspired thinking, deep listening, and spirited conversations.
Denise's closing keynotes are highly customized to both the event and the audience. Interweaving insights from other speakers' keynotes and breakout sessions with her own presentation's concepts, Denise provides participants with a delightful integrated conference experience.
Regardless of whether she opens or closes an event, participants leave Denise's keynotes not only motivated to put their concepts into practice through actionable takeaways, but also fully inspired to express their creativity and be their brilliance.
Denise has presented at organizations worldwide such as Google, Facebook, Automattic, GitHub, Groupon, FastWeb.It, and the BBC. She has spoken at events such as South By Southwest Interactive, The International Association of Business Communicators Worldwide Conference, NDC Oslo & London, The Trondheim Developer's Conference, UX Week, UX Australia, UX Lisbon, UX Israel Studio, The Society for Technical Communications Summit, various chapters of The American Marketing Association, Creative Mornings, The Future of Storytelling, the CREATE Festival, Delight Conference, Inbound, AdobeMax, and TEDx RheinMain.
Videos
---
Speech Topics
---
The Creativity (R)Evolution
Instigate a (R)Evolution by spreading a social wave of creativity. Ignite your creative spark to help you and your team better communicate, collaborate, and create work infused with meaning.
The Creativity Imperative
Discover the four directives for structuring environments so creativity and innovation — the most important drivers in economic growth — can thrive.
Infinite Possibilities
Find out how your unique skills as a successful creative can be used to focus your career on growth, meaningful work, and endless opportunity.
Banish Your Inner Critic
Discover your inner critic's modus operandi and learn how to dismantle this insidious inner force to free your mental energy and let your true talents shine.
Co-Create: Creating Better Together
Discover effective methods for constructing a collaborative environment, sparking synergy, and leveraging a group's creative brilliance so innovation can thrive.
Banish Your Inner Critic v2.0
Discover how to recognize the guises of the Inner Critic so that you can bust through your creative blocks and share your talents and expertise with the world.
Related Speakers View all
---
Liz Nead

Executive Business & Life Coach

Steve Gutzler

Steve Gutzler is one of the nation's premier thought...

Nicole Yeary

Founder & CEO of Ms.Tech, A Company That Aims to Sup...

Tina Marie Jones

Connecting with the audience through the style of a ...

Andrea Raquel

Trained Broadcast Journalist / Marketing Pro & Exper...

Lori Cheek

Architect; Entrepreneur; Founder & CEO of Cheekd

Roberto Alas

Reaching and identifying the potential in every sing...

Charlie Alejandro

Motivational Speaker, Writer, Actress & Radio Talk S...

Christi Tasker

Social Media Branding Queen and Keynote Speaker

Adora Svitak

Author, Speaker, Youth Advocate & Child Welfare Prof...

Sally Hogshead

Marketing, Persuasion & Personal Branding Expert; Au...

Igor Beuker

World Authority on Marketing and Media

Jean Bailey Robor

Jean Bailey Robor, award-winning author and inspirat...

Daymond John

"Shark Tank" Investor; Founder & CEO of FUBU; Presid...

Harish Shah

The Singapore Futurist

Louis-Philippe Loncke

European Adventurer 2016, Explorer, Motivational Spe...

Mark A. Roosevelt

President of St.John's College

Pam Moore

CEO & Founder Marketing Nutz, Social Business Strate...

Nicholas de Wolff

Digital Media & Brand Strategy; Economic & Social Tr...

Lisa Van Allen

Executive Coach and Spiritual Director to Mission-Dr...
More like Denise