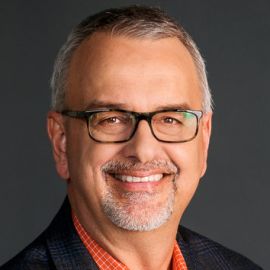 Dennis Brouwer
Digital Sociologist, Decorated Navy Veteran, Professional Innovator & Best-Selling Author
Dennis Brouwer brings a completely unique perspective to the challenge of thriving in a chaotic world. In his most recent corporate executive role, he led a team of 135 business development professionals with P&L responsibility for over $3b in global revenue. Across multiple businesses, he has launched or revamped over 100 global products and services and personally led the turnaround of a failing $300m global IT services business. Early in his career, he served in the inherently hazardous world of naval aviation as a carrier-based naval flight officer and mission commander, and accumulated nearly 1,000 hours of flight time and 200 carrier landings. During that time, he also served as a special weapons loading officer on the flight deck and in the squadron Safety Department as an in-flight evaluator, safety and operations trainer and award-winning tactics instructor.
He is a graduate of the Navy's specialized survival programs for open-water and jungle environments, as well as SERE (Survival, Evasion, Resistance and Escape), the capstone "prisoner of war experience" course for all combat aviators. After leaving the Navy, he led product management organizations tasked with anticipating the future and funding, quantifying and completing the development efforts, both technical and business, to make it real. As a result, Dennis possesses a deep understanding of the importance of overall preparedness, the psychology of risk and the very real dangers of complacency. He has honed this knowledge in industries as diverse as internet/cloud services, aviation, financial services, manufacturing and cybersecurity, and in start-ups, mid-size businesses and as a senior executive in a Fortune 200 company.
Dennis is a graduate of Georgetown University's Leadership coaching program and the author "The Return on Leadership, a book that defines and quantifies the impact of the leader on growth in people, teams and markets.
Videos
---
Speech Topics
---
Playing with Fire: Six Core Mindsets of Teams in Danger
The Challenge: Preparing for the Unthinkable
The world's gone crazy and uncertainty is the new normal. But that doesn't change the fact that you need to pick your way through the daily risk of doing business while preparing for "black swan" events like cyber attacks, threats to public safety and dramatic shifts in the political or competitive landscape. It's time to learn from organizations that routinely work in high-intensity environments where risk is high and the consequences of failure are immediate and irreversible.
Learning Objectives
1) Learn the Six Core Mindsets of Teams in Danger and be better prepared for the risks of accidents and disasters. 2) Learn to recognize and break through entrenched "Either/Or" thinking that undermines safety, preparedness and organizational readiness. 3) Discover the Three Building Blocks of highly prepared and adaptive organizations. 4) Master the three questions that highly prepared teams routinely ask. Improve efficiency and agility through preparedness planning and investment.
Becoming the Feared Competitor: Five Core Values of the World's Great Software Teams
The Challenge: Building a Team that Thrives in an Uncertain World
Everywhere you look, the rate of change is accelerating, and most of that change - the web, smartphones, and the Internet of Things - is driven by software. So how do software development teams do it? It turns out they've got a system that's designed to deal with exactly the kind of complex problems that are driving the rest of us crazy…and it might be just what you and your team need to get ahead and stay ahead in your chose market.
Learning Objectives
1) Learn the Five Core Values of the world's most productive development teams. 2) Discover fresh approaches to solving complex, ingrained problems. 3) Develop a deeper understanding of your value in the market and in the minds of your customers and prospects. 4) Identify when it's time to challenge conventional wisdom about your business model and market. 5) Build a culture that values spontaneity, agility and value creation.
Building Agile Leaders: Serving the People Who Serve Your Customers
The Challenge: Building Servant Leaders and Agile, Resilient Organizations
In a world where the playing field has been leveled and everyone has access to the same technology, skills and markets, how do you compete? Agile leadership, focused on helping our teams deliver sustainable value to our customers is the answer. That means letting go of the traditional levers of power and embracing transparency, openness and adaptation and a sense of curiosity about what's possible.
Learning Objectives
1) Embrace the Six Key Challenges to the Servant Leader 2) Learn to Develop Trust and Act Decisively in Service to a Shared Vision 3) Develop the Courage to Delegate, Commit and Master Accountability 4) Reward and Invest in Creativity and Responsible Risk-taking 5) Build a Learning Organization Designed to Thrive in Uncertainty
Related Speakers View all
---
Saj-Nicole Joni

Business Strategist & Advisor

Afterburner

US Fighter Pilots & Team-Building Experts

Jason Selk

Director of Mental Training for the St. Louis Cardin...

Rebecca Lieb

Strategic Advisor & Research Analyst at Kaleido Insi...

Liene Stevens

Author, speaker, and behavioral psychology expert wh...

Nicole Yeary

Founder & CEO of Ms.Tech

Carey Lohrenz

First Female F-14 Fighter Pilot in the U.S. Navy, T...

Tendayi Viki

Innovation Consultant; Associate Partner at Strategy...

Brent Gleeson

CEO of TakingPoint Leadership, Navy SEAL Combat Vete...

Bradley R Staats

Professor at the UNC Kenan-Flagler Business School &...

Graham Allcott

Entrepreneur, Author & Podcaster

Dr. Joe Dispenza

Author, International Lecturer, Workplace Solutions ...

Dan Pontefract

Chief Envisioner at TELUS & Author of "The Purpose E...

Rye Barcott

Co-Founder & CEO of With Honor, Veteran and Author o...

Dave Logan, PhD

Author of New York Times #1 Bestseller "Tribal Leade...

Wes Moore

CEO of Robin Hood Foundation, Best-Selling Author & ...

Robert Kriegel

Expert in Sports & Performance Psychology

R "Ray" Wang

Founder, Chairman & Principal Analyst at Constellati...

Igor Beuker

World Authority on Marketing and Media

Montel Williams

Emmy Award-Winning Talk Show Host Best Known For "Th...
More like Dennis